Bishop William McGrattan, formerly an auxiliary bishop from Toronto's central district, was recently appointed by Pope Francis as Bishop of the Peterborough Diocese. On 9 April, I had the great privilege to meet the new bishop at his first press conference at his office in Peterborough where he was introduced by the newly retired Bishop De Angelis.
Bishop McGrattan told us that he is a hockey fan, but added that he had to stop playing the game three years ago. When asked if he was an outdoorsman, he said that while he did not hunt, he is looking forward to fishing in the Kawartha Lakes.
Although he has come to Peterborough from Toronto, from his background and experience he is familiar with parish life in both urban and rural parishes, being originally from the London area. He was ordained when he was twenty-five and served as a parish priest for three years in Chatham, Ontario. He was asked to study and then to teach at the seminary in King's College. He has been a priest for twenty-three years and was ordained as an auxiliary bishop four years ago.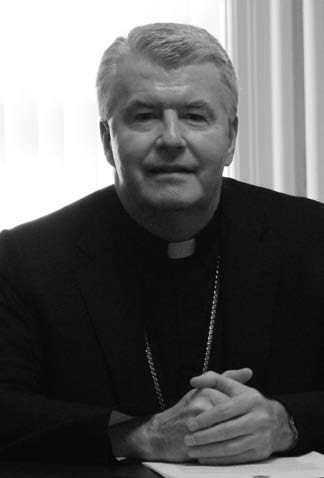 He told us, "There is a bit of sadness in leaving Toronto and the friends I have made there, but also excitement in coming to Peterborough. Once you say yes to becoming a bishop, you place your life in the hands of the Holy Father. There is something called obedience. So we as Catholics trust that God works through the Holy Father. When I was told I had been selected and was asked for my response, I did not have to think about it. I just said, 'Yes.'" His installation is to take place on 23 June, the vigil of the feast of St. John the Baptist.
The following are just some of the many very welcome, hope-filled, and encouraging statements Bishop McGrattan made at his press conference:
"John the Baptist said of Christ, 'He must increase, I must decrease.' He is a role model of Christian witness and encounter. It is fitting that my installation happens on his feast day."
"I want to focus on the youth, especially in the context of the family, and to find ways to make families strong. I am a strong believer in the parish—this is where Christ touches people with the sacraments."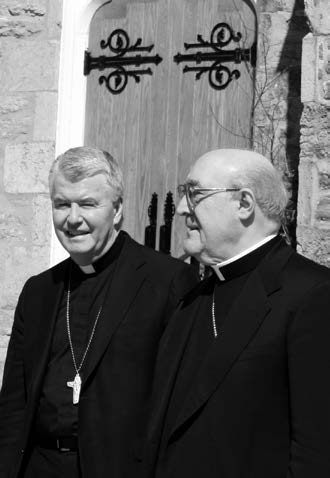 "It is in the community, the parish, that we are baptized into the life of the whole Church. The gift of Faith is really found in the parish. What I want to do is to strengthen the parishes. The stronger the parish is the stronger the diocese. I want to support the lay groups in the parishes, such as the St. Vincent de Paul Society, the Catholic Women's League, the Knights of Columbus."
"I try to support the lay movements in the parishes—to support the groups that work to promote the dignity of each person and babies in the womb."
One of the reporters asked if he meant that he supported the pro-life movement. "Yes, prolife, the unborn, and also it is important that we defend the elderly, the aged. We as a Church are not ready to accept any threats to the end of life and we must support the burden undertaken by their caregivers. Pope Francis was correct: how we care for the young and the elderly says a lot about who we are as a Church."
"It is essential that we outreach from the parish. We must act as Christ would act. In our tradition we preserve truth, beauty, the arts, goodness, and promote good moral living. We offer this to society, and I hope to continue in that long tradition."