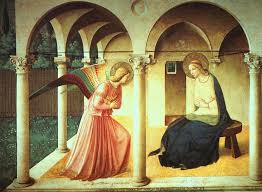 Our Lady Seat of Wisdom Schola is singing Schubert's setting of a solemn High Mass at 11: 00 a.m. this Saturday, March 25th, at Saint Columbkille's cathedral in Pembroke, to celebrate the solemnity of the Annuciation.
The celebrant will be one of OLSW's own alumni, Father Scott Murray.
If you are in the area, please do feel free to join us in this beautiful and joyful celebration, joining ancient Liturgy, Gregorian chant, sacred polyphony and the classical setting.
As the Constitution on the Sacred Liturgy attests, "the musical tradition of the universal Church is a treasure of inestimable value, greater than that of any other art".