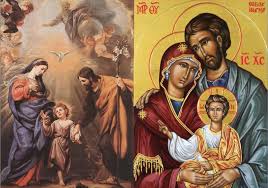 Saint Joseph was proclaimed the patron of this country at its very origins, by none other than Samuel de Champlain himself, on March 19, 1624, a choice later ratified by Pope Urban VIII.  Although Canada has gone through many trials, and seems to heading for many more, like his guidance of the Holy Family, Saint Joseph will see us through, one way or the other.
It is a curious parallel in providence that the secondary patrons of this country, the Canadian Martyrs, were just beginning their apostolic missionary labours at this time, to be crowned by their glorious deaths in the 1640's.  Two of these martrys, Jean de Brebeuf and Gabriel Lalemant, were put to death on March 16 and 17th, 1649, just before his feast, outside Midland.  We here at Our Lady Seat of Wisdom made our annual pilgrimage to the site of the martrydom just a few days ago, with an outdoor Mass (celebrated in sub-zero wind-chill conditions by our own heroic Father Zachary of Madonna House), right on the place where they were put to death four centuries ago.
As Saint Thomas writes (I.q.103.a.6), God has willed that His providence be brought about by the creatures He has created, especially angels and men, as free causes, not because He needs us, but for our own perfection and growth in holiness.  And Saint Joseph may be termed the patron saint of providence, a faithful and silent minister of God the Father, along with his most chaste spous, Mary, ever-virgin.
So ite ad Joseph, and may he, Our Lady, his Immaculate Spouse, and all the Martyrs intercede for this land.
And a blessed solemnity to all!