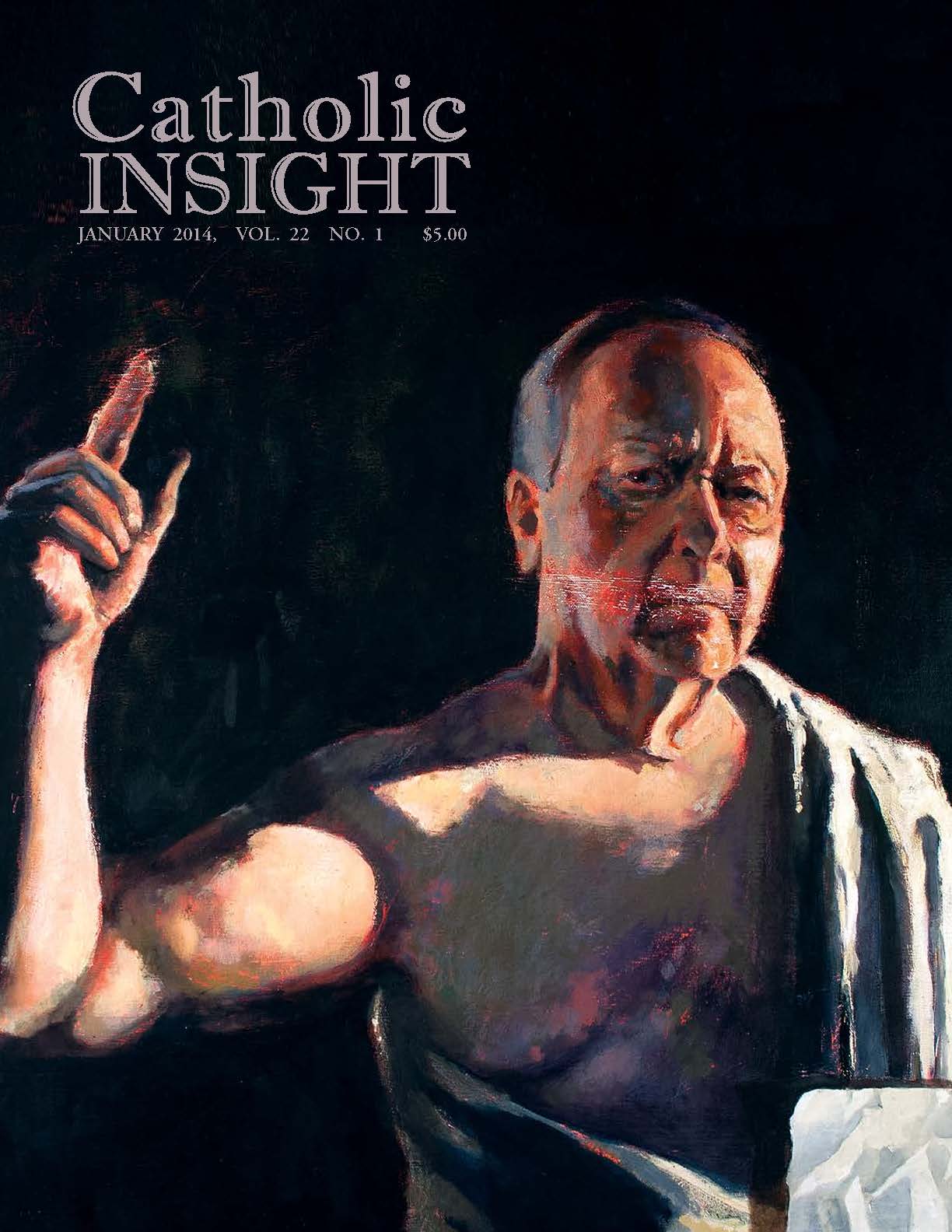 Our January artist, Justin Jensen, studied illustration at Rocky Mountain College of Art and Design. After graduation, he traveled through Europe and decided there was an amazing potential for beauty in art. He decided to continue studying painting at Colorado State University. He currently teaches online at RMCAD and is collaborating with a friend on illustrating a children's book about the Eucharist.
What is this piece about?
This is a depiction of Zachariah—the father of St. John the Baptist. I was interested in this theme because it reminded me very much of the experience of many Catholics today. Zachariah lost his ability to speak after he learned he would have a son. He had a profound and powerful experience and he had answers that the world was longing for, yet he just was unable to communicate it.
The other image is the companion piece. It is The Artist as St. John the Baptist: Material, Formal, Efficient, and Final. The work is a self-portrait and a depiction of St. John—and at the same time a meditation on Aristotle's four causes. I am very interested in St. Thomas and incorporating his philosophy and theology into my artwork. The rough textures of the paint emphasize the material cause. The cut into a sharper rendering emphasizes the formal cause; incorporating myself into the work emphasizes the efficient cause. In the upper left, there is a small trompe l'oeil painting of a medal of St. John. This is to point to the final cause—the ultimate, final end of beatitude.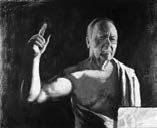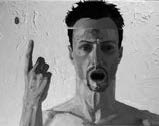 How did you get your start? What drives you to continue?
I've been drawing since I was very young. I was always very focused and driven to draw well. I started painting when I started college so that came later. I studied at the Rocky Mountain College of Art and Design (RMCAD) and at Colorado State University. I'm very fortunate to be a professor with RMCAD now. My early education focused a lot on the classical atelier style of art. That gave me a solid base on which to build as I studied for my Master's and on my own.
I love the act of making. I love the thought that is involved and the challenge of it. But I think most of all, I love beauty. That isn't to say that I think I've reached the level of truly beautiful work, but that's what drives me. There are times when I feel very jaded with the art world and it's contentment with impoverished beauties or its disdain for beauty; but a love of the beautiful is what keeps me painting and drawing.
What becomes of your pieces? Are they ever shown? Are they for sale?
I am fortunate to be connected with a co-op in Denver called Aggiornamento. We are members of the Knights of Columbus chapter which meets right in the heart of downtown near the capitol. We have a quarterly show at the Knights hall, usually with food, music, and a good variety of art. Apart from this, I have shown in a few galleries around Colorado and the west. My work is always for sale and I can be contacted for prices, commissions, or illustration work. If anyone is interested in finding more, they can follow Aggiornamento or myself at J. M. Jensen Art on Facebook or go to jmjensenart.com.
How would you define beauty?
I know beauty is a transcendental, which means it has a relationship with truth and goodness and it is an aspect of being. This means it is objective, yet it is perceived subjectively. There are different kinds of beauty—such as the beauty of truth or discovery or nature. In art, I see three distinct kinds of beauty. There is the beauty of the material, the beauty of the form, and the beauty of what is being said. It seems that at different times in history these get emphasized to different degrees. In the late nineteenth and early part of the twentieth century, art started to focus on the materials. Brush work and colour and materials became preeminent. Conceptual art tends to focus on the beauty of the idea (although without a metanarrative or meaning, much of the postmodern ideas tend to focus on the individual or society at best) and much classical art focused on the beauty of the form and representation. I think the best and most beautiful art is rich in all aspects. I recently discovered the work of William Congdon, who has a limited representational beauty, but very beautiful texture and meaning. I think Rembrandt is another good example. He had very meditative pieces that deal with profound scriptural themes, and his draftsmanship and paint application are beautiful for their own sake.
What is the purpose of art?
I think it really must be about beauty. Even pieces that challenge beauty are trying to find some limited aspect of beauty. We might say that it is interesting, which seems to be just a scaled down version of beauty. Art can be used for many things, but it is putting it in the context of beauty that makes it art and not utility.
Who inspires you and what inspires you?
In visual arts, I really love many different things. I mostly look to anything from 1500-1900 for inspiration. I just love great drawing and that was a key characteristic of classical art. I do appreciate the textural experiments of the abstract expressionists but I like to incorporate those into a more honed drawing.
Apart from visual arts, most of my inspiration comes from theology. I have always been a big reader of theology, ever since I was a kid reading the Chronicles of Narnia. I owe a huge debt to C. S. Lewis and similar writers like Peter Kreeft and Mark Shea. The beauty of the queen of the sciences was instilled in me since I was young and these Catholic commentators helped me to see that it was most fully realized in the Catholic Church. I am so fortunate to now have a deep reservoir of theology to mine in writers like St. Thomas, Cardinal Ratzinger, John Henry Newman, and Etienne Gilson.
Do you have any other thoughts about art you would like to share with our readers?
I am a convert to the Catholic Church and I am so grateful for that. I think it was beauty that ultimately led me to the fullness of Faith. As I sought beautiful ideas in C. S. Lewis, I saw them fulfilled in the Church. It is the whole idea of grace perfecting nature. Grace is so grand that every aspect of our lives can redeemed if offered to Him who redeems. Grace is so grand that it can perfect even us. The perfect image of that beauty is the Blessed Virgin Mary. I see her as God's most perfect work of art, the Mother of Beauty: because, like beauty, she is worth honouring in herself, yet she points to her Son. Beauty always brings us to wonder and to honour, but not to contentment. The points of highest beauty in our lives still make us want more—we won't be content until we see God face to face.
I know that the Church has had difficult times in the past years, but I am hopeful in the New Evangelization that Blessed Pope John Paul II spoke of. If we as Catholics can show the world that we have a profoundly beautiful Faith, we will change the world. Ours is really the only Faith that can say that everything is meaningful—even our failures can be offered up and made into redemption. The world has lost the meaning of sacraments, suffering, and now even marriage and gender, but the Catholic Church affirms all truth firmly—and that is beautiful.