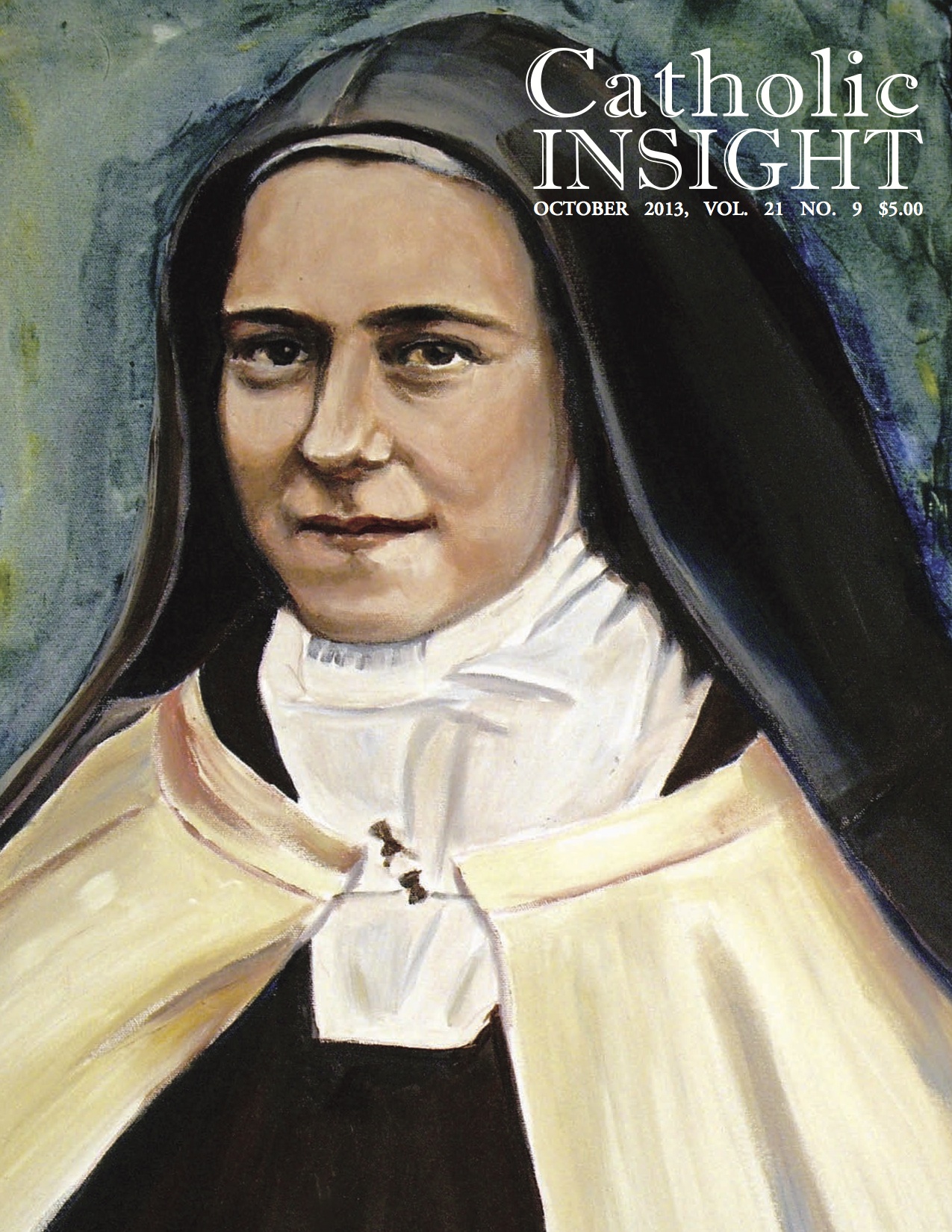 Our October artist Sheila Diemert is an artist living and working in Kitchener, Ontario. She enjoys creating art that is uplifting and positive and paintings that have meaning for the owners: portraits of people they know and love or places they have been to or hope to visit one day. She paints flora, landscapes, portraits, and still lifes.
What is this piece about?
St. Thérèse said, "I will spend my heaven doing good on earth" and "I will let fall from heaven a shower of roses." Many people have asked for her intercession and received roses as a sign of her help. I have prayed many novenas to St. Thérèse. In the novena prayer, it says, "St. Thérèse, my Carmelite Sister, I will fulfil your plea 'to be made known everywhere' and I will continue to lead others to Jesus through you." Painting the portrait of St. Thérèse (I have painted several) helps me to fulfil those promises.
When did you start painting?
I took some oil painting lessons when I was eleven but, other than an occasional art class, I didn't paint much until after graduating from university.
Who or what did you learn from?
Most of my art training came from Linda Carson at her studio in Waterloo, Ontario. She's now a professor at the University of Waterloo.
Why did you continue painting? What draws you to it?
I paint because I enjoy helping people preserve memories and because I feel that God has given me a talent that I should use.
What do you do with your pieces? Are they ever shown? Are they for sale?
My paintings are for sale. I have done work for churches, businesses, non-profit organizations (such as an image for Christmas cards for Toronto Right to Life), and individuals. My websites are sheiladiemert.com and sheila-diemert.artistwebsites.com, where you can order prints of my paintings.
How would you define beauty?
Beauty is in the variety of colours, textures, patterns, and shapes—the individuality and uniqueness—of people and places around us. When something has a sense of light and life, I find it beautiful.
What is the purpose of art?
I think that the purpose of art is to show us the beauty of God's creation and thus to lift our hearts and minds to our Creator.
Who inspires you and what inspires you?
God's creation inspires me. People and places with light and life inspire me. Bold colours inspire me.
Do you have any other thoughts about art you would like to share with our readers?
There is beauty everywhere—in the patterns in the fabric of a sari, in the textures on the bark of a tree, in the colours on the peel of an apple, in the light in a person's eyes. When I started painting still lifes, I was surprised by the beauty of every type of fruit and vegetable. While "talking turnips" with Dave Beresford, he pointed out how wonderful it was that turnips have such beauty and care in their creation in spite of growing hidden in the ground. Referring to the artist Velasquez, G. K. Chesterton wrote: "He would paint a turnip seriously; but never with that blatant materialism that seems to say in every line, 'this is a turnip; you have often seen one before.' His picture would say, the one lesson of all art, all philosophy, all religion, 'This is a turnip. You have never seen one before.'"