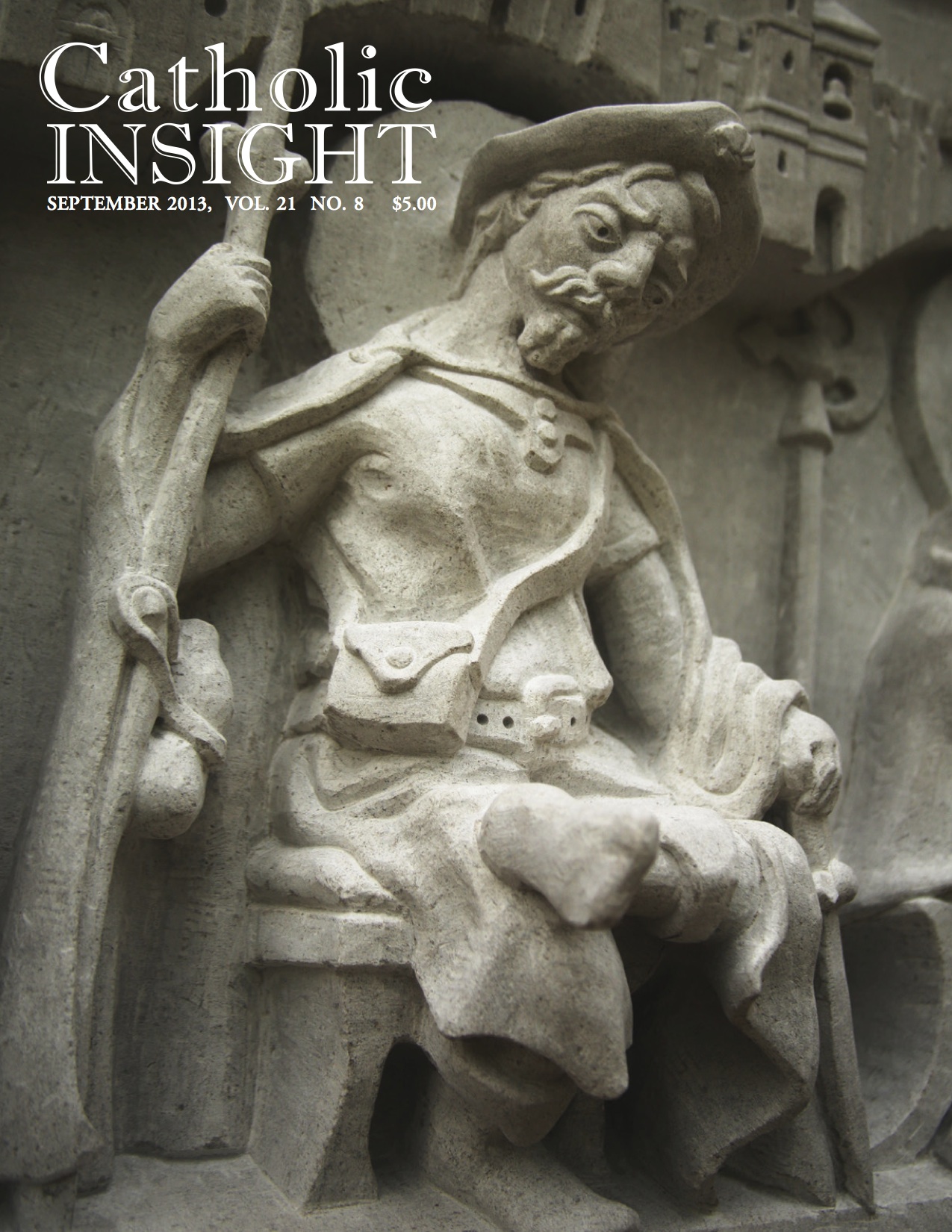 Our September artist Andrew Wilson Smith is a freelance sculptor and stone carver, working in a variety of media including cast bronze, plaster, and stone. Mr. Smith has completed a number of sculpture commissions in both sacred and secular settings. In addition to his work as an artist, Mr. Smith is deeply involved in teaching and promoting Liberal Arts education. Beginning in the fall of 2013, Mr. Smith will number himself among the founding faculty of Gregory the Great Academy, a small Liberal Arts boarding school in northeastern Pennsylvania. For more information about the artist, visit andrewwilsonsmith.com. For more information about Gregory the Great Academy, visit gregorythegreatacademy.org.
What is this piece about?
My most recent project is a carving of the twelve Apostles, which is part of the grand portal into the Oratory at Our Lady of the Annunciation Abbey in Oklahoma. The followers of Christ are shown in a timeless space, enthroned in the Heavenly Jerusalem. My intention was to work within a Romanesque idiom, but to still give each Apostle an individual personality. In this close up, St. James the Greater is shown in the guise of a pilgrim en route to the shrine of Santiago in Spain. He carries the staff of a pilgrim and wears a sea shell in his hat, the symbol of baptism and long journeys (the grooves of the shell symbolize many paths culminating at one place). One way of interpreting this part of the sculpture is by understanding the Christian life as a pilgrimage from earth to heaven. St. James wearily rests his booted feet along the way, but is resolved to continue on his journey undaunted.
How did you get your start as an artist?
I had many of great opportunities as a child to visit museums and churches with my parents. I can't remember a time when I did not own a big black sketchbook, usually a gift from my father.
Who or what did you learn from?
The most formative learning experiences for me were working in the studios of other artists, especially with the sculptor/painter Anthony Visco of Philadelphia. I have always felt that the studio apprentice method of passing on tradition in the arts is superior to the approach taken by art schools. At various times I have had the privilege of passing on this kind of experience to apprentices of my own, which has been very rewarding.
Why did you continue sculpting? What draws you to it?
I sometimes tell people that I took up sculpture because I couldn't figure out how to paint. I know that's a bit flippant, but I really can't imagine working in any other field.
What do you do with your pieces?
Most of my projects are done on commission. I have been very blessed in having had several opportunities to design sculptures as permanent installations in churches and other public spaces. I have also done a number of projects that are now in private collections.
How would you define beauty?
Beauty is one of the three transcendental qualities in nature together with Truth and Goodness. These qualities are forever intertwined in a graceful dance; to separate the Beautiful from the True and the Good is always a mistake and leads to a distorted view of reality. Beauty tends to be the most elusive of these graces. An artist is more likely to discover and depict Beauty if he seeks among her sisters, Truth and Goodness.
Who inspires you and what inspires you?
In general, I would say that I take much of my inspiration from the Western Tradition as a whole. My goal as an artist is to be a participant in this tradition, rather than one of its many eulogists. Modernism has shown itself to be a cultural cul-de-sac, leading nowhere. Most of the traffic has been going around in circles for the last seventy years or so. If we can get back to the road that we were on in the first place, we might stand a chance of getting someplace.