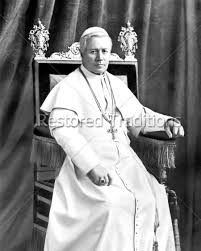 BENEDICT XVI
GENERAL AUDIENCE
Papal Summer Residence, Castel Gandolfo
Wednesday, 18 August 2010
Dear Brothers and Sisters,
Today I would like to reflect on my Predecessor, St Pius X whose liturgical Memorial we shall be celebrating next Saturday and to underline certain features that may be useful to both Pastors and faithful also in our time.
Giuseppe Sarto, that was his name, was born into a peasant family in Riese, Treviso, in 1835. After studying at the Seminary in Padua he was ordained a priest when he was 23 years old. He was first curate in Tombolo, then parish priest at Salzano and then canon of the Cathedral of Treviso with the offices of episcopal chancellor and spiritual director of the Diocesan Seminary. In these years of rich and generous pastoral experience, the future Pontiff showed that deep love for Christ and for the Church, that humility and simplicity and great charity to the needy which characterized his entire life. In 1884 he was appointed Bishop of Mantua, and in 1893, Patriarch of Venice. On 4 August 1903, he was elected Pope, a ministry he hesitated to accept since he did not consider himself worthy of such a lofty office.
Pius X's Pontificate left an indelible mark on the Church's history and was distinguished by a considerable effort for reform that is summed up in his motto: Instaurare Omnia in Christo, "To renew all things in Christ". Indeed, his interventions involved various ecclesiastical contexts. From the outset he devoted himself to reorganizing the Roman Curia; he then began work on the Code of Canon Law which was promulgated by his Successor Benedict XV. He later promoted the revision of the studies and formation programme of future priests and founded various Regional Seminaries, equipped with good libraries and well-qualified teachers. Another important sector was that of the doctrinal formation of the People of God. Beginning in his years as parish priest, he himself had compiled a catechism and during his Episcopate in Mantua he worked to produce a single, if not universal catechism, at least in Italian. As an authentic Pastor he had understood that the situation in that period, due partly to the phenomenon of emigration, made necessary a catechism to which every member of the faithful might refer, independently of the place in which he lived and of his position. As Pontiff, he compiled a text of Christian doctrine for the Diocese of Rome that was later disseminated throughout Italy and the world. Because of its simple, clear, precise language and effective explanations, this "Pius X Catechism", as it was called, was a reliable guide to many in learning the truths of the faith.
(To continue reading, please see here…)