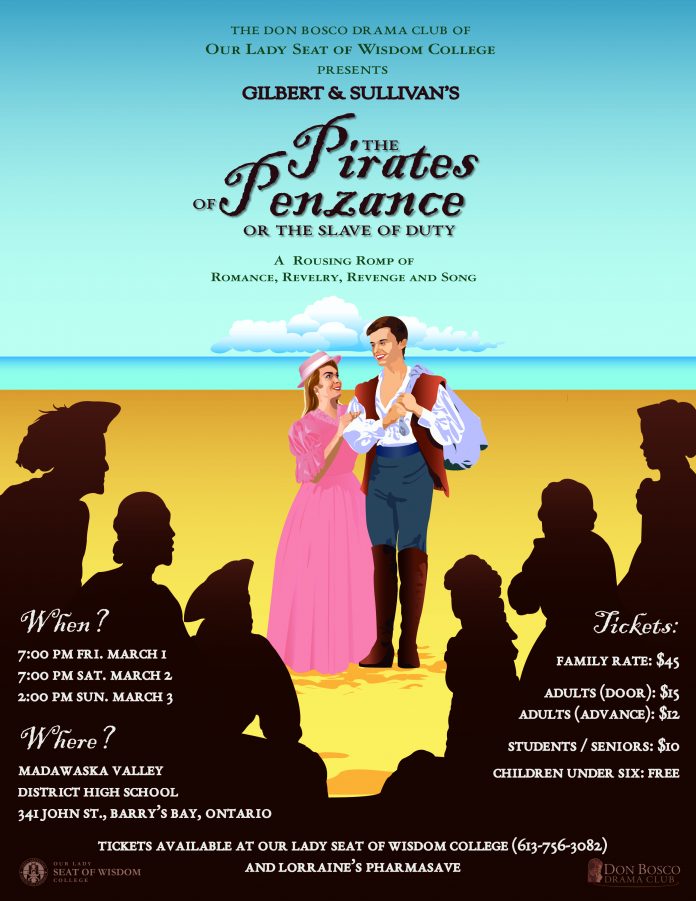 Come and see Seat of Wisdom's performance of Pirates of Penzance, Gilbert and Sullivan's 1880 rollicking musical operetta, filled with music, singing, dancing, harmonies galore, glorious costumes, a story of love, loss and redemption, and lots of comic fun, with three performances on the first weekend of March. A hit when first performed on New Year's Eve in New York city, and a perfect antidote now in Barry's Bay to the doldrums of winter!
Tickets can be purchased at Lorraine's Pharmasave or by stopping by or calling Seat of Wisdom College (18 Karol Wojtyla Square, 613-756-3082).
Prices:
Family Rate $45
Adults (Door) $15
Adults (Advance) $12
Students/Seniors $10
Children under 6 are free
When? 
7:00pm Friday, March 1
7:00pm Saturday, March 2
2:00pm Sunday, March 3
Where?
Madawaska Valley District High School
341 John Street, Barry's Bay, Ontario