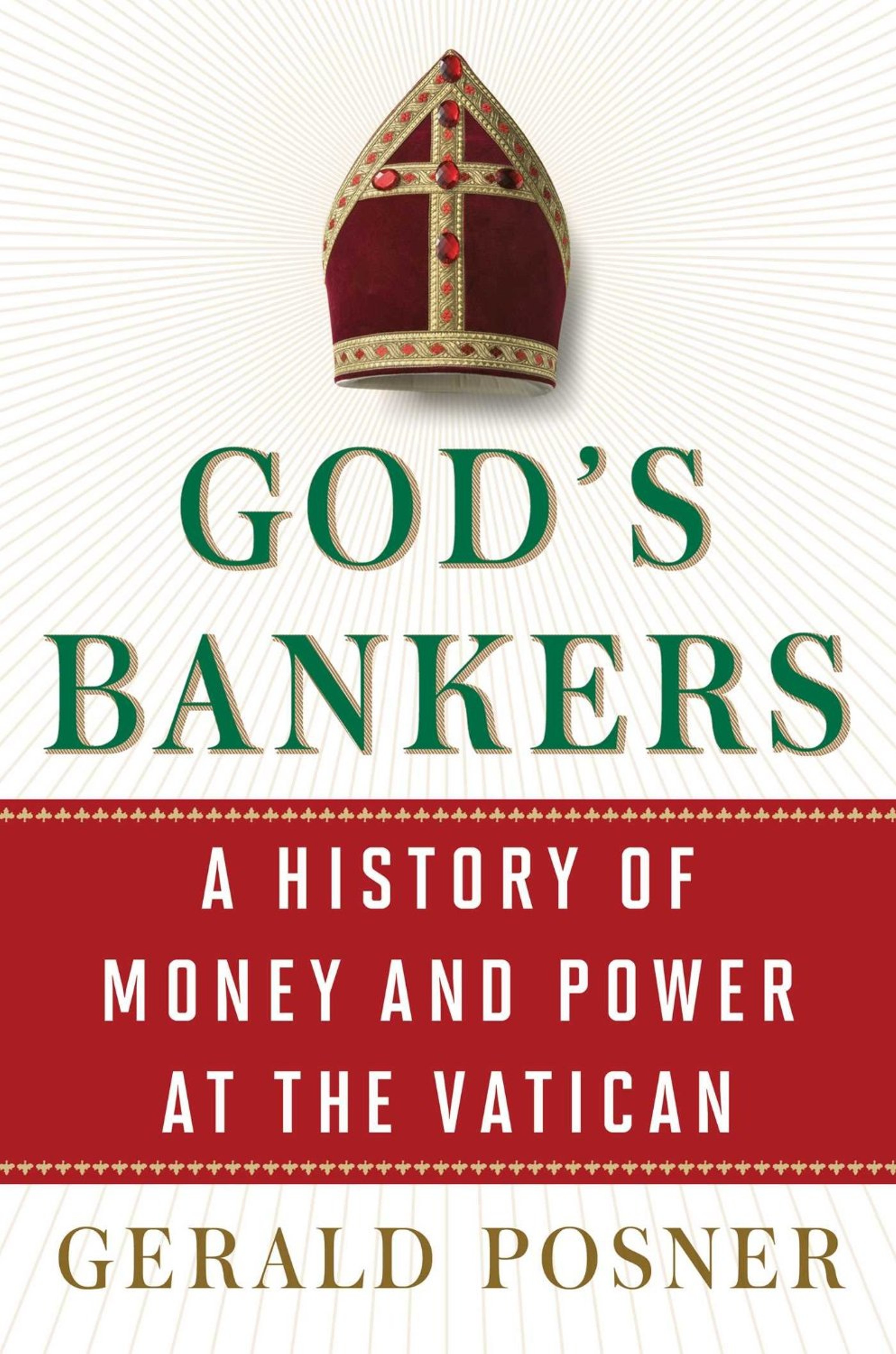 You can't run the Church on Hail Marys. – Archbishop Paul Marcinkus, former head of the Vatican Bank
A new book about the history of the Vatican's finances confirms yet again that the handling of money—in both large and small amounts—is always a sticky business.
This, of course, is a hard fact of life, one that all the popes have understood and hated—including Pope Francis, who has made it known that he despises the stuff he calls "devil's dung" because of its potentially harmful impact on individuals and the world.
Decrying the current global economic climate, the pontiff spoke out again recently against what he called a "throwaway culture created by the powers that control the economic and financial policies of the globalized world."
He also proposed a solution of sorts, in the form of economic cooperatives he hopes will help spread wealth equally: "Money at the service of life can be managed in the right way by cooperatives, on condition that it is a real cooperative where capital does not have command over men but men over capital."
According to Vatican Radio, by calling money the devil's dung, the pontiff was quoting his namesake, St. Francis of Assisi. "When money becomes an idol, it controls man's choices. It makes him a slave."
Has Francis read Gerald Posner's new book, God's Bankers, about the church's long, complicated history with money?
Regardless, the Holy Father is well aware of the stress his predecessors endured as they tried to keep Vatican finances in virtuous order while extending financial aid to the needy in times of both war and peace.
Despite the best of intentions, however, there have been lapses due to unaccountability, avarice, and the papal need to delegate such responsibilities to stewards he may trust but who may not have possessed the strength of character or the education or the experience such work requires.
History to date
But first a brief synopsis of the Church's financial history which Posner begins in the sixth century and charts through the medieval years when the Church was committed to its view that interest-bearing loans were sinful—a perspective that, as the modern financial age dawned, would cause problems for the Church's management of institutional funds.
In fact, that new monetary age was already making its appearance in the 19th century when Pope Gregory XVI (1831-45) was forced to borrow money from James de Rothschild of Europe's powerful banking family. And the Vatican's financial fortunes further deteriorated during the reign of Pius IX (1846-78), when the papal estates were reduced to a tiny parcel of land, causing the Church to lose further income, thereby hampering the funding of its annual charities. Nor had matters improved when, as the 20th century opened, the Vatican lacked an internal budget for its operating costs. All of which meant that by the time Benedict XV (1914-22) died, the Vatican was reeling even further by an overall loss of 40 percent of its capital.
It was then that Pope Pius XI (1922-39) ordered the Vatican's first internal audit, a process that took six years to complete and revealed the Church to be down to her last lire. Even so, Pius still refused to loosen the restrictions on commercial investments or modernize her finances.
All that changed with Pius XII (1939-58) who, in June 1942, hired Bernardino Nogara, a savvy and devoutly Catholic businessman to set up what became the Vatican Bank (Istituto per le Opere di Religione). Known as IOR, the bank was intended to serve the religious mission of the Church. And since this was wartime, Nogara was also tasked to ensure the bank was structured to allow the Vatican to move funds to endangered Catholics without any detection that might interfere with their aid and escape.
Ironically, however, it was precisely this offshore feature—so vital to helping victims of war, including countless Jews—that created the basis for the bank's greatest scandal in peacetime four decades later.
This was the great Vatican banking scandal of the 1980s—the one that tainted the bank with allegations of money laundering, tax evasion, fraud, and even murder; the one that garnered headlines around the world, beginning with the discovery of the body of an Italian banker under London's Blackfriars Bridge in 1982—the one that comprises the heart of God's Bankers.
Among its cast of characters were Italian financiers Michele Sindona and Roberto Calvi and Archbishop Paul Marcinkus who, as the head of IOR, lacked any financial training or experience whatsoever. It was this ineptitude that allowed the bank to be subverted and tarred by its association with Calvi and Sindona, along with the suggested corruption of Marcinkus.
In Posner's telling, the Chicago-born Marcinkus, who ran IOR from 1971 to 1989, got the job because Pope Paul VI liked him. And he kept it due to the gratitude of Pope John Paul II when Marcinkus sent $5 million in 1978 to the Archdiocese of Philadelphia to help clean up a scandal at the National Shrine of Our Lady of Czestochowa near Doylestown.
As for Calvi and Sindona—who'd become hopelessly ensnared in their own webs of sharp practice, intrigue, and promises they couldn't keep—both came to wretched, some might say biblical, ends. As head of Milan's Banco Ambrosiano, Calvi bankrupted that institution and was convicted of illegally exporting currency. In June 1982, he was found hanging from the Blackfriars Bridge in London. Four years later, in 1986, Sindona was convicted of murder and sentenced to life in prison where he committed suicide. And for "its moral involvement" in the bank's failure, the Vatican agreed to pay Ambrosiano creditors $244 million.
Eventually, the scandal slipped from the headlines, though not entirely out of the news as ongoing problems with the Vatican bank continued to bubble to the surface periodically, suggesting only modest success has been made since those ugly days.
Pope Francis' reforms
And now Pope Francis is said to be making significant progress with the bank but it remains a concern, possibly prompting his public pronouncements over money and its temptations.
In Posner's view, Francis is a reforming pope with the temperament Benedict lacked for making tough decisions.
Thus, when George Bergoglio became Pope Francis in March 2013, he became the shepherd of an institution with 1.2 billion followers, 6 million lay employees, 4,500 bishops, 412,000 priests, and 865,000 members of religious institutes and schools. In addition, its charities (with 20 million people receiving some form of assistance) are regarded as the largest in the world.
And near the top of Francis' to-do list has been the Vatican Bank, Posner writes, which he sought to reform in order to streamline the city-state's finances. Francis has also acted quickly and decisively, declared the Financial Times, by taking "important steps towards the reform of the bank's legal and institutional framework." These steps included a top-to-bottom review of the bank by a financial panel given complete authority to access all the IOR's files. His plan also included the implementation of an enhanced screening system for reporting cash transactions and spotting suspicious activity which, only a year later, was already producing dramatically improved results.
But these moves were temporary. Ultimately, the Pope had to decide whether or not to simply close it down. In the end, in the interests of maintaining the Vatican's independence, he decided to keep the bank open.
Italian theology professor Massimo Faggioli explained Francis' rationale: "Pope John Paul II didn't touch the bank because it served his purpose of funding Solidarity from the Vatican. Pope Benedict did not touch it because he had no interest in controlling it. Pope Francis is different because he knows the damage that has been done to the credibility of the Church by this very small bank and its history of scandals."
In July of last year, Francis put the final touch on his restructuring plan by firing most of the bank's old guard and replacing them with a new board of directors with deep experience in private finance and Wall Street. He also established a new division, the Secretariat of the Economy, with Australian Cardinal George Pell as its chief.
"The IOR's investment work would be moved to a newly created division, Vatican Asset Management." Posner writes. "Going forward, the Vatican Bank would primarily be a payment service and financial advisor for employees, Catholic charities, and religious orders. The revamped IOR would no longer be able to trade in property and stocks as it did in its heyday under Nogara and Marcinkus."
Cardinal Pell elaborated further to the Boston Globe: "Our ambition is to become something of a model of financial management, rather than the cause for occasional scandal. The ambition is to be boringly successful, to get off the gossip pages. The aim is to become a model of good practice in financial administration. Along the way, we're not going to generate any less revenue for the works of the Church."
Still the extent to which these reforms succeed remains to be seen, particularly in light of the apparent precariousness of today's international banking system.
20-20 Hindsight
It's all very well looking at history through a rear view mirror where historians and journalists routinely cluck their disapproval of monarchs, prime ministers, presidents, and popes for what they could have and should have done.
When it comes to this cautionary tale of money and power that spans centuries, it's also important to remember that Posner's approach is thoroughly secular. Apart from his detailed recap of the Vatican banking scandal of the 1980s, he pays considerable and highly critical attention to Pope Pius XII as well, particularly during World War II when—despite the onslaught of untested criticism—Pius, in truth, demonstrated he was wily as a serpent and gentle as a dove. Nevertheless, secularists persist in their sanctimonious accusations of Pius during the war years by castigating and smearing him for not publicly denouncing the Nazis in the grandstanding Hollywood way they demand decades later. But the truth is that Pius, a deeply prayerful pontiff, knew better than to further incur the demonic rage of Hitler against powerless civilians who were always at risk.
But hindsight is always 20-20.
Or is it?
The answer depends on the lens being used. As God's Bankers follows the role of money through the history of the Roman Catholic Church, it cannot help but touch on ethical and moral concerns and contradictions.
Many who suffered during the war will tell you that Pius was right. But those aren't the voices and memories Posner consulted. Instead, he relies on such "experts" as John Cornwell and ignores the well-documented "disinformation" about Pius disseminated so cleverly and stealthily by the Soviet KGB.
But this particular controversy doesn't discredit his massive research which took nine years, and is itemized in 200 pages of carefully compiled notes.
At the end of his hefty book, Posner examines the bank's reforms, and rightly wonders if Pope Francis can succeed where his predecessors failed. Will Francis overcome the resistance to change in the Vatican's secretive inner court and rein in the excesses of its financial quagmire?
Whether Posner realizes it or not, however, here's the deeper lesson: As disgusted and disillusioned as many Catholics have been by these scandals of weak men succumbing to temptation, it's always striking to note how surprised they are by such behaviour. Do they not understand this as all part of the human condition and its sins for which Christ Himself died?
The mistake, even the danger here—and the one the world wants you to make—is to confuse the Catholic Church with the public sins of some of its members and thereby be tempted to lose faith.
Even so, God's Bankers should be read by every Catholic truly interested in Church history. A careful reading should also prompt Catholic readers to notice how, despite everything, the spiritual role of Holy Mother Church in the history of mankind has always remained above the fray. All due to the salvific grace of its founder, Jesus Christ, and to the graces He bestows on mankind to fulfill His sacred mandate, despite the schemes and machinations of its errant members.
Gerald Posner. God's Bankers: A History of Money and Power at the Vatican. Simon & Schuster. 730pp.