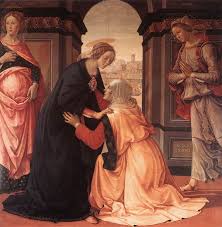 A blessed feast of the Visitation to one and all!  I have always considered this a pro-life feast, when two saintly women, each bearing two very holy children, in fact, the holiest, met in a joyful and spiritual reunion.  As Pope Benedict has pointed out, the New Covenant begins with the declaration Kaire!, Rejoice!, as the Angel Gabriel announced to the Virgin that she would bear the Messiah, who would save His people from their sins.   Hence, the Greek for the Gospel, eu-angellion, the 'good news'.
As Mary rushes to help out her expecting relative, the baby in Elizabeth's womb also 'leapt for joy', and his mother declared to Mary why she should have the honour of receiving such a visit from the mother of her, and all of our, Lord?
The Lord now 'visits' all of us, each moment of the day, through His grace, his inspirations, the intercession of His Mother and all the saints in glory, whenever we ask Him, and often when we don't.  What need have we of fear and anxiety, when the Lord and His Mother need no longer travel physically across the deserts of Israel, but are now closer to us than we are to ourselves?