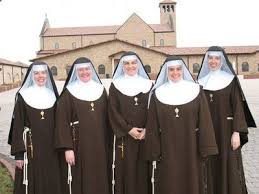 Religious life is habit-forming. Though this is a play on words, the sentiment is accurate. In the culture of Roman Catholicism, mere mention of the religious (sisters and nuns, monks, priests of an order, secular professed) conjures up images of black veils, belt-dangling rosaries, brown robes, knotted-rope belts, hoods, and a variety of other distinctive articles of clothing that stand out in everyday situations. These looks – combinations of tunics, cinctures, etc. – are unique to each religious order, and are called "habits."
St. Francis of Assisi's orders have worn habits since the 1200s; the Benedictines started before the Franciscans. The list goes on as nearly every religious order wore a habit at its time of founding. To this day, orders like the Dominicans, the Religious Teachers Filippini, and the Carmelites wear prescribed, modest, uniform garb. In mid-to-late 20th century, however, many orders chose to kick the habit, so to speak. The Sisters Servants of the Immaculate Heart of Mary, the Religious Sisters of Mercy, and the Sisters of St. Joseph are only a few examples of religious communities who have opted for laypersons' clothing.
This contrast in standards – perhaps even in thinking – begets some important questions:
Why did/do religious orders wear habits?
Why have some orders stopped wearing habits?
What effect does a religious habit have on today's culture, one largely focused on fashion?
Why the Habit?
In "Nunsense," the off-Broadway musical comedy by Dan Goggin, Sisters Mary Hubert and Mary Leo explain it quite well. "If God had wanted everyone to look like people," the say, "then he wouldn't have invented nuns." To an extent, these fictional sisters are correct in their evaluation of the religious habit.  The code of canon law 669 §1 states, "Religious are to wear the habit of the institute, made according to the norm of proper law, as a sign of their consecration and as a witness of poverty." Simply put, a habit is a sign of a person's state in life, their total consecration to serving God and his people. Since members of most religious orders take a vow or make a promise of poverty, the habit reflects that very visibly – and financially.
A religious habit is an outward sign. It tells people that the person wearing it is a consecrated or professed servant of God. It creates what Sr. Shirlee Tremont, MPF, calls a "Ministry of Presence." In her essay of the same name, Sr. Shirlee recalls a story of a distraught woman approaching her and fellow Sister asking them to pray over her. "This woman stopped us because she knew we were Religious Sisters. She knew because she saw two women dressed in simple habits," Sr. Shirlee says. "Had we not been wearing our habits, we would have been two unapproachable strangers to this woman, and she likely would not have made us aware of her need."
Saint John Paul II agreed with the importance of the religious habit. In his Apostolic Exhortation Vita Consecrata, the then pope said, "Since the habit is a sign of consecration, poverty and membership in a particular Religious family, I … strongly (recommend) to men and women religious that they wear their proper habit, suitably adapted to the conditions of time and place." He called it a powerful way of keeping God on the streets. Sr. Shirlee's story is an excellent example of that power.
While a habit is an outward sign of consecration, ministry, and even poverty, it is also an inward sign to those who don it. I can speak to this from personal experience as a professed brother of the Secular Franciscan Order (Ordo Franciscanus Saecularis). We are a religious order founded by St. Francis of Assisi in the 13th century as a branch of the world-wide Franciscan family. We are single and married, men and women. Our purpose is to bring the Gospel to life where we live and where we work. Our habit is a simple one: A tau (τ) cross worn around our neck, as a pin, or on a ring. When I put on my tau, when I touch it during the day, I am reminded of my promises of poverty, chastity, and obedience in my secular religious state. I remember that I am called to do all things for the greater glory of God. My habit affects my actions and my attitudes in all I do.
Why Kick the Habit?
If a religious habit has such great internal and external effect, why would some orders choose to abandon its use and tradition? Neela Kale summarizes the most commonly-heard reasons in her 2012 article, "Why Do Some Nuns No Longer Wear Habits?" She says,
"In the 1960s, many religious communities made the habit optional, limited its use, or stopped wearing it altogether. This reflected the signs of the times. Traditional habits, modeled on the dress of the medieval poor, no longer have any connection to the garb of poverty in the 21st century. And in some settings outward identification makes members of religious orders less approachable, thus hindering rather than furthering the proclamation of the gospel. Also, as religious women took on increasingly diverse occupations … they adapted their dress accordingly."
While habits were once modeled on the dress of the poor, today they serve more purposes – those described above. Sr. Shirlee's story proves the habit can make a religious more approachable, as opposed to Kale's claim of the opposite. Saint John Paul II even recognized changing times when he noted the habit should be "suitably adapted to the conditions of time and place." He used the word adapted, not eliminated. Plus, the habit insures modesty and humility. Street clothes cannot guarantee that. They are subjective, open to interpretation by each individual.
The Effect of the Habit in Today's Culture
In a 21st-centry society that is all about being seen, we notice what people wear. People judge others by their style, by their appearance. Modern society says a person is defined based upon his choice of threads. In the case of the religious habit, modern society gets it right. Consider the profound effect the religious habit has, the example it sets, the presence it communicates. When people see a religious in habit, they see a person's commitment to the service of God. They think of God. That fact alone is the first, best reason for orders to keep, or bring back, the habit.
In 2015, I found myself at a local hospital bringing Holy Communion to my grandfather. There in the intensive care unit I stood in simple black pants and a gray sweater with my habit, my tau cross, hanging from my neck, resting on my chest. A woman approached me and told me her husband had just woken up from a coma. Neither she nor her family had been to church that Sunday as they were at his bedside night and day. She asked me to bring communion to them and to pray with them. I did. That never would have happened had she not recognized me as a servant of God. She saw my habit, and called me to serve. The ministry of presence brought prayers and — most importantly — the body of Christ to a man mere hours after awaking from a coma.
Yet orders continue to shed the habit. As a result, traditional orders who wear traditional habits have become counter-cultural. They are even perceived as rebellious, at least in the minds of young men and women. This is attractive to those young people. The result: Traditional, habit-wearing, radical orders are seeing growth. Sr. Shirlee Tremont, MPF, reports that in the last three years her order, the Religious Teachers Filippini, went from having no one in formation to having one postulant and three pre-postulants.
The Dominican Sisters of St. Cecilia are thriving as well. In 2010, 27 young women joined the order. The average Sister is 36 years old. "Unlike many older sisters in previous generations who wear street clothes and live alone," notes NPR's Barbara Bradley Hagerty, "the Nashville Dominicans wear traditional habits and adhere to a strict life of prayer, teaching and silence." She goes on to point out that "nearly 300 … Nashville Dominicans (are) called to the unbending rhythms of prayer and silence and worship. With their long habits and disciplined regime," Haggarty observes, "these conservative sisters are, it seems, the new radical."
Tradition seems to prevail with young people. Dress has an impact. The habit is radical and traditional at the same time. That is a blessing to religious orders as vocations slowly begin to grow again.