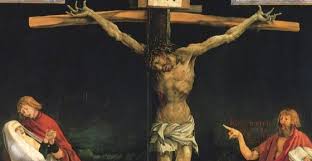 THE ELEVENTH STATION
Jesus is nailed to the Cross.
V. Adoramus te, Christe, et benedicimus tibi.
R. Quia per sanctam crucem tuam redemisti mundum.
From the Gospel according to Mark. 15:25-27
And it was the third hour, when they crucified him.
And the inscription of the charge against him read:
"The King of the Jews."
And with him they crucified two robbers
one on his right and one on his left.
MEDITATION
"They have pierced my hands and feet, I can count all my bones" (Ps 22:16-17). "I can count…": how prophetic were these words! And yet we know that this body is a ransom. The whole of this body, its hands, its feet, its every bone, is a priceless ransom. The Whole Man is in a state of utmost tension: his bones, his muscles, his nerves, his every organ and every cell, is stretched and strained to breaking-point. "I, when I am lifted up from the earth, will draw all men to myself" (Jn 12:32).
These words express the full reality of the crucifixion. And part of this reality is the terrible tension penetrating Christ's hands, feet and every bone: driving its way into the entire body which, nailed like a mere thing to the beams of the Cross, is about to be utterly annihilated in the convulsive agony of death. And the whole of the world which Jesus wills to draw to himself enters into the reality of the Cross. The world is dependent on the gravitational pull of this body, which inertia now causes to sink lower and lower.
The Passion of Christ Crucified lies precisely in this gravitational pull.
"You are from below, I am from above" (Jn 8:23). From the Cross he says: "Father, forgive them, for they know not what they do" (Lk 23:34).