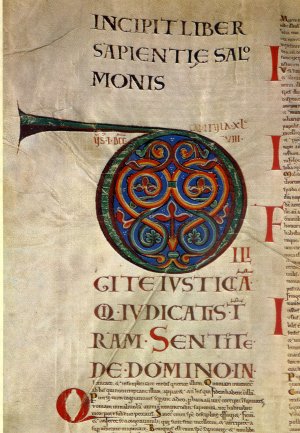 These last few days before Christmas bring all kinds of crazy out of the woodwork, don't they? It really is ironic how rude and insensitive shoppers can be—ripping the last tchotchke out of others' hands in order to make some recipient "happy." But as we enter the home stretch before December 25th, I have been struck by how the Liturgy intensifies as well. It's almost as if the Church knew (and knows) how to call us sheep back from the all-engulfing material world and help us remember that Christmas is ALWAYS about the human person—a human person—and stuff and things are ALWAYS secondary.
For the seven days (or octave) before Christmas Eve, the great "O Antiphons" are recited or sung during vespers. Each antiphon highlights a title of the Messiah and refers to a prophecy from Isaiah. If you take the first letter of each antiphon (after the "O") from the bottom up, you get Ero Cras, which means Tomorrow, I will come in Latin, adding yet another layer of awesome to the O Antiphons.
They are, in order:
Dec. 17 – O Sapientia (Wisdom)
O Wisdom, coming forth from the mouth of the Most High,
reaching from one end to the other,
mightily and sweetly ordering all things:
Come and teach us the way of prudence.
Dec. 18 – O Adonai (Lord)
O Adonai, and leader of the House of Israel,
Who appeared to Moses in the fire of the burning bush,
And gave him the law on Sinai:
Come and redeem us with an outstretched arm.
Dec. 19 – O Radix Jesse (Root of Jesse)
O Root of Jesse, standing as a sign among the peoples,
Before you kings will shut their mouths,
To you the nations will make their prayer:
Come and deliver us, and delay no longer.
Dec. 20 – O Clavis David (Key of David)
O Key of David and scepter of the House of Israel,
You open and no one can shut,
You shut and no one can open:
Come and lead the prisoners from the prison house,
those who dwell in darkness and the shadow of death.
Dec. 21 – O Oriens (Dayspring)
O Morning Star,
Splendor of light eternal and sun of righteousness:
Come and enlighten those who dwell in darkness and the shadow of death.
Dec. 22 – O Rex Gentium (King of the nations)
O King of the Nations, and their desire,
The cornerstone making both one:
Come and save the human race,
Which you fashioned from clay.
Dec. 23 – O Emmanuel (God is with us)
O Emmanuel, our king and our lawgiver,
The hope of the nations and their Saviour:
Come and save us, O Lord our God.
The very first antiphon speaks directly to us as Christmas approaches: "Come O Wisdom … mightily and sweetly ordering all things, teach us prudence." Yes, many of the things we're doing need to be done. Our family needs to eat, special clothes need to be bought and assembled, and gifts need to be wrapped. We are Martha right now, busily making everything perfect for the Lord's coming. The Church and the Liturgies are calling us to remember Mary, who has "chosen the better part."
So smile. At strangers and friends alike. Be kind and attentive to family, no matter how difficult. Cultivate silence and stillness in the midst of the gong show around you. It might be something as small as pausing a moment before entering the mall, or recalling the O Antiphon for the day—today (December 19th) is O Radix Jesse—to absorb the significance of Jesus Christ coming forth as a delicate shoot from the seemingly-dead stump of Jesse. These moments aren't huge or elaborate, but they are enough to call the Christ Child to mind and calm our spirits in the process.
I wish you all a very Happy and Merry Christmas full of peace and everything good. And may He who is coming bless you, personally, deeply, and richly in a new and unique way today and always.
Photo credit: By Benedictine monastery of Podlažice [Public domain or Public domain], via Wikimedia Commons.