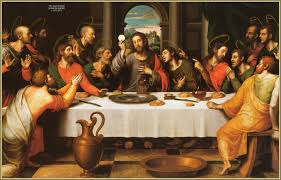 Published: Thursday, April 13, 2017, 9:09 pm | Author: Editor, John Paul Meenan
A note to wish all our readers a very blessed and joyous Triduum, the holy 'Three Days', which really are, liturgically, one continuous Day, beginning this evening with the Mass of the Lord's Supper, followed by Good Friday and the salvific suffering and death of Our Lord, the peaceful quiet waiting of Holy Saturday, culminating in the glorious resurrection of Christ, God and Man, signifying our own future glorious rising with Him at the end of time and history, which may always be closer than we think.
So have good cheer, in the midst of all these worldly travails.  For, as Christ promises, I have overcome the world.