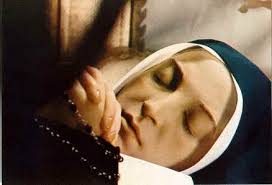 Today we celebrate Our Lady of Lourdes, when on a cold winter day in 1858 in the south of France, the Virgin Mary appeared to the young peasant girl, Bernadette Soubirous, with sixteen subsequent visitations, culminating in the 'Lady's' declaration, in response to Bernadette's question, that she was the 'Immaculate Conception', a dogma proclaimed by Bd. Pius IX four years earlier.
What was once an unremarkable village in the foothills of the Pyrenees, Lourdes has now become one of the foremost pilgrimage sites in the world, welcoming four to six million visitors  per year, a beacon of hope for those seeking healing, physical or spiritual. Saint Bernadette's body lies incorrupt in the convent of Nevers, where she spent the brief remainder of life as a professed religious, dying in her own battle of suffering of tuberculosis on the 16th of April, 1879, at the age of 35.
As Pope Saint John Paul II taught, our world has lost the proper sense of suffering, a natural consequence of the loss of a supernatural perspective, of Man's eternal destiny. Hence, all our thoughts, desires, dreams are focused on this life alone, so brief, so limited, a subtle form of despair and acedia.  Hence, the desire for a quick and painless death, assisted suicide, to go oh-so-gently into that great goodnight when the roses lose their bloom, and life becomes painful.
The great Pope taught in Evangelium Vitae that this temporal existence is only a 'penultimate' good, to be used well in preparation for our ultimate good, eternal life.  Without this dimension, life cannot make sense, or the only sense is that there is none.  Hence, the bizarre philosophy of David Benatar, who claims, in an ironic application of the words of Christ about Judas, that the best thing for any human is never to have been born.
But every life is of value, even the most suffering and simple, as, again, John Paul taught so eloquently and profoundly in his masterpiece on the infinite value of suffering, Salvifici Doloris, promulgated on this day in 1984.  Well, well worth a read, if you have not done so already, and one wise Jesuit priest remarked that this Apostolic Letter may be amongst the most important and prophetic works of the Holy Father's corpus.
We should unite our prayers this day, and throughout the year, with those of the sick, along with all of our own sufferings, especially those especially sent to us by God. As Saint Theresa of Calcutta declared, 'suffering is the kiss of Christ'.  We should rejoice in our health, but also in our own salvific suffering in whatever way it may come to us.
Our Lady of Lourdes and Saint Bernadette, orate pro nobis!