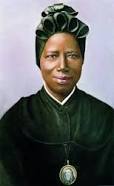 On this day in 1947, Sister Josephine Bakhita completed the long and eventful journey of her life. Her childhood was spent happy and fulfilled growing up in the region of Darfur, which was then not the apocalyptic warzone it is today. But profound evil still lurked around the corner, as Josephine (a name she later adopted..She lost the memory of her original name) was kidnapped (soon after her elder sister) by Arab slave traders, and sold into slavery.  Then began a life of almost indescribable suffering, torture, physical and psychological abuse, scarring, mutilation, at the hands of her various 'owners'.  It was only when a kindly soul, who had 'bought' her, brought her to Italy.  Bakhita at one point was placed to stay with the Cannosian Sisters, and refused to leave, a decision backed up by the Italian authorities.  She converted to Catholicism, and received her first Communion and her final profession in religious life, fittingly enough, from Archbishop Guiseppe Sarto, the future saint, Pope Pius X.
Sister Josephine spent the rest of her life in the convent, occasionally giving talks and training to Sisters and others who were embarking on missionary journeys to Muslim territories.  She was known for her joy and her kindly demeanour, and, though living a rather hidden existence, was soon known throughout Italy as a saint. In her final weeks, she had flashbacks to the horror of her days in slavery, perhaps in reparation for the continuation of this evil of man against man:  Homo lupus hominis.
Her sanctity and personality are encapsulated in an anecdote recounted of her:  A young student once asked Bakhita: "What would you do, if you were to meet your captors?" Without hesitation she responded: "If I were to meet those who kidnapped me, and even those who tortured me, I would kneel and kiss their hands. For, if these things had not happened, I would not have been a Christian and a religious today".
Her last words, as she lay dying on a Saturday, were "Yes, I am so happy: Our Lady… Our Lady".
God can indeed bring the greatest good out of the greatest evil, and Saint Josephine is an invaluable patron in our current battle against all the atrocities done in the name of God.
Ora pro nobis, Sister Bakhita!