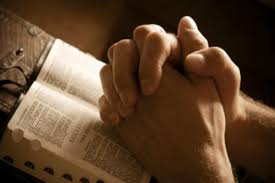 Discouragement has to be one of the most debilitating feelings. It's not so much depressing as it is zapping of any kind of energy that you had to pursue your goal. It can come in many forms: your plans are foiled, the promotion at work did not come, or you feel as if everything you do doesn't quite work out. There is also discouragement in prayer: you pray and pray and pray and nothing seems to happen; you feel as if you're praying to a wall. We've all felt that way and since our Faith is not built on emotions and feelings, we'll have to face discouragement for as long as we are faithful.
But here's a thought on discouragement, especially in prayer. During the summer, a priest gave a retreat for a Carmelite Monastery and the general public centered around the great feast of Our Lady of Mt. Carmel. On one of the evenings, he chose for his reflection the stories in Matthew and Mark of the woman who was hemorrhaging for twelve years and the daughter of the temple official who had died. Of course, we all remember the endings: Jesus cured the woman and resurrected the young girl from the dead. And we all remember why: because the woman and the father had faith, faith that Jesus could, and trust that He would.
Father Sawicki spoke about faith, hope and trust—three elements that any good prayer must have. But he also brought up a point I had never considered: "Discouragement," he said, "is from the devil: when you start feeling discouraged, know that that is the time to double your prayers. Pray harder."
Isn't it true that when we feel as if our prayers are doing nothing, we are tempted to stop? The devil wants us to stop praying, especially when we have no emotional attachment to doing so, when praying ceases to feel good. He knows and we know and God knows that when we continue to pray even in our darkest moments we are closest to the Heart of Jesus.
Praying well is incredibly difficult. And praying well when there is no emotional comfort is even harder. St. Faustina stresses in her Diary that if you want your prayers to be answered, you must have faith and trust. The more we trust in Jesus, the more we will receive.
But this is a double-edged sword: it is a natural reaction of constantly being let down to become jaded and cynical. If we pray and no one answers—or we feel like no one answers—we lose hope that we will ever be answered, and so on and so forth, until we are moving our lips in mechanistic habit. We have no hope, no trust, no faith, and no confidence. We instead become cynical and selfish, and sometimes angrily lash out at God, as if it's His fault. Fr. Sawicki protests: "There is no room for God when there is cynicism and selfishness in your heart!" How can we expect God to answer us when we're too busy self-pitying and wallowing in our own misery?
It's not easy and no one ever said it was.
How must we approach prayer? First of all, we must pray and pray even if we are distracted, even if we spend half the time wondering what we're having for dinner. God can't help us if we stop asking Him for help. Second of all, we have to pray for patience, trust, faith, and hope. But how can we expect to receive trust and hope if the whole problem is that we don't have trust and hope in prayer? My answer: Let God figure that out. Have humility and acknowledge to Him that we don't have hope and we don't trust. I guarantee, He's listening. If I've learned anything from my Catholic Faith it's that God is always listening. He will get you to where you need to go: "'For I know the plans I have for you,' declares the Lord, 'plans for welfare and not for calamity to give you a future and a hope. Then you will call upon Me and come and pray to Me, and I will listen to you. You will seek Me and find Me when you search for Me with all your heart'" (Jer 29:11-13 ).
He will listen, but He makes the stipulation that you must search for Him with your whole heart. So start praying with everything you've got, with all that you can muster. In the same way that practicing piano or a sport will make you better, praying will make you better at praying. Even if at first most of your heart is elsewhere, keep trying and eventually your whole heart will find its way to God.
Remember that discouragement is from the devil. No matter how hard it is to pray to what you feel is just an empty statue or a brick wall, that is when you must pray all the harder. I don't know about you, but when I'm discouraged, depressed, or cynical, I retreat into a shell of self-sufficiency and jaded detachment. These are the times when I must fight against the inclination, go against my will, and keep right on walking and praying, even if there is no light and no emotional comfort. Our greatest triumphs come when we face the greatest adversities. Discouragement in prayer will always be an adversity.
(This article is from the Catholic Insight archives, but timely nonetheless)