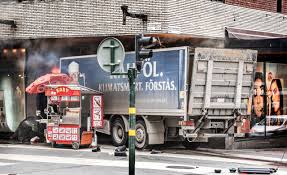 Another truck attack, this time in Sweden, where a 'lone wolf', as they are so euphemistically termed, plowed into an 'upscale' department store in Stockholm, killing four and injuring a number of others. The suspect tried to flee in a 'confusing' manner, was captured, and is now expected before a judge.  I wonder what his sentence will be in nice, socialist Sweden?  Of course, the usual brave slogans about 'we will not be cowed' and such, but too little, too late. Stockholm syndrome is upon all of us. Everyone will be looking over their shoulder, as I have written, not least at larger vehicles driven by people of a certain religious and cultural origin.
My brother, who is a truck driver, but a Catholic one with no jihadi tendencies as far as I know, noticed a truck parked right in the middle of the street a couple of weeks ago, hazards on, holding up all the  traffic.  He wondered what was up, then noticed the driver, on his 'prayer mat' at the side of the road, facing Mecca, one may presume.  After all, in the pray-er's mind, everyone should be on his mat at that time, so why all the fuss and bother? Wait till I am done, my dhimmi friend.  Ah, yes.  Our 'western' culture, once so strong and virile, is committing slow suicide in more ways than one.
May God rest the souls of the victims, and may the perpetrator in this attack find repentance.
Today, Saturday, at Saint Hedwig's church in Barry's Bay, John O'Brien, S.J. will be ordained into the transitional diaconate by His Grace, Archbishop Terence Prendergast.
Please do pray for John, as he continues his journey towards the priesthood  (which he will receive in June), as he continues to live out his vocation in the Society of Jesus.
And, on a less sacramental, if not less exalted, note, I (yes, your lowly editor, John Paul) will be offering the Divine Mercy address on the second Sunday of Easter, also at Saint Hedwig's church.  The chaplet will begin at 3 p.m., with a brief talk and a few prayers. Please do feel free to join us if you are in the area.
And here's wishing a very blessed Holy Week, as we enter the final preparation for the great solemnity of Easter.