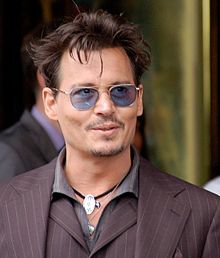 The Church has consistently advocated the proper distribution of wealth in society, ensuring that each one has 'enough' on which to live. Of course, the Magisterium has consistently condemned the intrinsically perverse solution of 'socialism', advocated by Karl Marx, and developed by his intellectual descendants, wherein the benign and disinterested 'State' would gather to itself all the means of production, and distribute justly as each has 'need'.  In turn, each worker would provide for the commonwealth according to his 'capacity'.
Things don't work that way, and such a solution would deny our human nature, which requires freedom to work upon our own private property, whether that be physical and earthy, like a farm, a workshop or trade, or intellectual and technological, as in writing, creativity, healing, teaching and such.
Pope John Paul II in Centesimus Annus states that the economy is really a sub-discipline of anthropology and moral theology, for the money and wealth in our society will follow what people desire, and what they desire flows from their moral decisions, and those things around which they have ordered their lives.  What, really, do we as a people 'value'?  Where is our 'treasure'? It is that for which we will work and spend our money.
The role of the Church is not to build an economic system, or provide any particular societal models, but rather to inform and elevate the individual conscience, so that, each person at a time, and that means you and me, can make a more informed, moral decision in what we do, and don't do, what we work for, and don't work for, and where we spend our hard-earned wealth, thereby keeping the whole economic river flowing.
Alas, however, our culture is anything but elevated and, well, cultured, which is why classical music societies, and classical education, and classical literature, much that is true, good and beautiful, are all suffering, while banality, even crudeness, are in the ascendant, ironically enough.
I came across an article the other day on the spending habits of the actor Johnny Depp. I suppose one could argue that he has contributed to 'culture', but not, I would argue, in a way that has consistently elevated it. I have nothing against him, except some concern over his apparent abandonment of the mother of his children (whom he never married), his multiple other marriages and relationships, and his overall disordered life.  Anyway, the article was significant in portraying a man who has too much money, or at least knows not how to divest himself of what he has.  As a sample, Mr. Depp spent
over $75 million to "acquire, improve and furnish 14 residences, including a 45-acre chateau in the South of France, a chain of islands in the Bahamas, multiple houses in Hollywood, several penthouse lofts in downtown Los Angeles, and a fully-functioning horse farm in Kentucky.
I ask:  How can one person live in 14 houses?  Depp also owns 70 guitars, which is about 68 or so more than he needs.  Leo XIII taught in Rerum Novarum that we make property our own, which is to say, 'private', by impressing our personality upon it. This is what turns a 'house' into a 'home' as I have written before. This is also what turns a guitar that hangs upon a wall into an instrument that is played for the enjoyment of oneself and others.
Mr. Depp has also lavished out millions on collectibles and memorabilia involving icons such as Marilyn Monroe, John Dillinger and Marlon Brando. The collection is so extensive it fills "12 storage facilities" and cost over $1 million just to archive.
A bunch of nostalgic American paraphernalia sitting in storage facilities that few, if anyone, ever see. Is this where his treasure is?
In a fit of what may only be described as the kind of insanity peculiar to the rich, Depp spent over $3 million "to blast from a specially-made cannon the ashes of author Hunter Thompson over Aspen, Colorado".  Depp played the troubled journalist Thompson in a film not too long, during the filming of which he met his soon-to-be-wife-then-ex-wife-and-sometime-lesbian Amber Heard, who profited handsomely from her dalliance with the fellow film star.
Yes, Depp has had his fair share of personal travails, often of his own choosing, which is perhaps that is why he also spends $30,000 per month on wine "he had flown to him from around the world for his personal consumption".
One must forget one's troubles somehow, even if Chesterton declares we should always drink to remember, never to forget.  Flying around all that vino may also help explain his $200,000 per month on private planes.
There is more, but that offers a window into how too-rich-Johnny spends his millions, most of which were made in his unwatchable yet mystifyingly-profitable Pirates of the Caribbean, prancing around as a mumbling drunk pirate, the whole sad and sorry premise founded on a Disney amusement ride, with yet another film in the works. We get what we pay for.
And yet, in that relatively small segment of the world's population we call 'rich', Depp is a rather low man on the totem pole.  Monsieurs Zuckerberg and Gates could buy Johnny out many, many times over.  Bill Gates may soon become the world's first trillionaire. I will leave it to future columns to discuss whether and how much Face Book and Microsoft have themselves affected our culture, for better or worse, and whether they should have the value they do.
What we do know is that the wealth of the world is becoming ever-more concentrated in the hands of fewer and fewer, as the following graph demonstrates: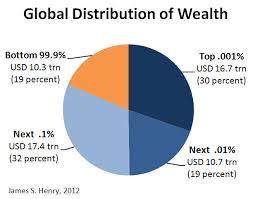 That is most of the world's wealth in the hands of far less than 1% of the population, and I am not sure even Depp fits into this category. I am no socialist, and believe not in forced redistribution.  Rather, the best and most moral way to 'distribute' wealth is to educate people, from our government legislators to the man in the street, in that which is really of value, so they can work and support that which is truly good, for themselves and for others. On this I will have more to say soon.  In the meantime, try your best to avoid any more Pirates.