When the blackface scandal first broke, CTV political commentator Don Martin said that Justin Trudeau told him as a backbench MP that he would never run as PM because he had too many secrets.
Somewhere along the line that changed, though many Canadian voters still sense they don't know the half of it. Nor do they fully understand what's happened to this country since 2015 when Justin Trudeau won a majority government despite spending a distant third in the polls throughout the first half of the campaign.
Someone asked me recently why I oppose a second Trudeau term. "Do you want the laundry list or the big overview?" I replied.
So let's begin with $600 million reasons, the money he gave to Canadian media with the silent suggestion that journalists and their cash-strapped media outlets cut the scandal-ridden leader of the Liberal Party of Canada some slack in ways only they can. Such as providing sanitized reports on his most recent scandals, from SNC-Lavalin to Blackface, treating them with sympathetic twists or ignoring them altogether. Thereby insuring that solid, unbiased and truth-pursuing journalism – long held as essential to any society protecting its freedoms – no long exists in Canada. This is called corruption. And such corruption means that – all denials notwithstanding – Canada is no longer a free society where free speech is a guaranteed right and where politically incorrect examples of its abuse are now legion.
Given this climate – bought and paid for with taxpayers' money – you may also have noticed that during this campaign cycle the media in general seems to have largely lost its memory on the many Trudeau scandals and embarrassments – unprecedented in Canadian history – of the past four years. And even earlier, including his early days in politics when he was found to have leveraged his taxpayer-funded position as an MP to profit off non-profit universities via speaking fees.
So when Trudeau decided to seek the Liberal leadership, it's worth looking at how he got elected in 2015 when, at age 43, apart from having a famous name, a trust fund and no significant political or life experience, he became prime minister. And how little attention was paid by Canadian media, except the National Post, to the massive foreign funding Trudeau was receiving for his election campaign from the likes of the secretive Vancouver-based Tides Foundation linked to George Soros and radical environmental movements.
According to a document filed in 2017 with Elections Canada and obtained in part by the Calgary Herald, foreign money funnelled towards Canadian political advocacy groups affected the outcome of the 2015 federal election significantly. The 36-page report entitled: Elections Canada Complaint Regarding Foreign Influence in the 2015 Canadian Election, alleges third parties worked with each other and may have bypassed election spending limits – all of which appeared to be in contravention of the Canada Elections Act.
The report alleged: "Electoral outcomes were influenced." Suggesting there was corruption from the very beginning and with bitter consequences for Canada during the next four years under Trudeau who, like fellow leftists and globalists in the U.S., has resisted all efforts at electoral reform, despite campaigning on that platform and suggesting Canada's flawed system has been good for him and the Liberal Party of Canada but bad for the rest of Canada.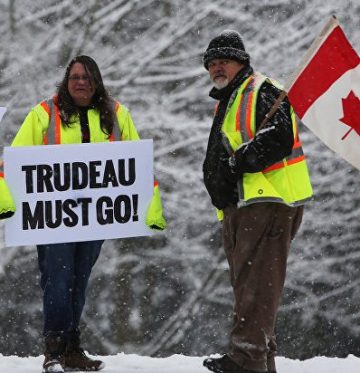 India debacle
And Canada's disastrous prime minister has shown just how bad it can be, exemplified most dramatically by his cringeworthy trip to India where he and his family, along with 14 Liberal MPs, spent a heavily costumed week, rife with selfies, meant to boost trade and cultural ties between the two countries but with an official schedule so embarrassing and so light on business that Trudeau failed to meet Indian prime minister Narendra Modi.
But this disaster was only superficial. The disaster that has been Trudeau's prime ministership runs far deeper. And it's been running Canada into the ground in ways most Canadians remain oblivious to, due to its deliberate complications and hidden agenda. One of which is the issue of building an oil pipeline to bring Canadian oil to market – every attempt of which has been dogged by protests, most funded by the Tides Foundation which directs funds to Canadian organizations such as Dogwood Initiative and Leadnow, both featuring prominently in anti-pipeline protests and both taking an active role in B.C. elections, aiming to get pro-energy politicians out of office and anti-pipeline politicians elected.
The Tides Effect
All this prompts the question: whose money is it that Tides pays out? Whose interests does it serve? And what donor requests are being satisfied? This is the great unknown. Over the last few years Tides has granted $40 million to 100 Canadian anti-pipeline organizations who, in return, have done a fine job constraining the Canadian economy and saving money for American buyers of Canadian oil. The goal of the activists? Keeping Canadian oil in the ground and landlocked so it can't reach overseas markets, and costing, according to Scotiabank, $15.6 billion a year to the Canadian economy.
And despite Trudeau's purchase of the Trans Mountain Pipeline for $4.5 billion to break the deadlock, insiders say this is all Kabuki Theatre. Meaning that every 'breakthrough' will be followed by delay after delay so that the project never gets built, meaning that Alberta oil languishes underground and Eastern Canadian refineries continue buying oil from Saudi, Nigeria, Azerbaijan and, yes, the U.S. Which must be music to the ears of Trudeau's principal secretary Gerald Butts, former CEO of World Wildlife Fund Canada, an important Tides campaign partner. And Marlo Reynolds, past director of the Tides-backed Pembina Institute, and current chief of staff to Environment Minister Catherine McKenna. Add the fact that tiny minorities of fringe activists now populate key power bases in Ottawa and the provinces and it's apparent that the green tail is manipulating the Liberal government dog and that the impoverishing carbon tax imposed on Canada, further discouraging business, has nothing to do with the "will of the people".
Climate Change manipulations
Nor does the Environment Ministry's cooking the Climate Change books. According to recent reports south of the border, Trudeau's environment ministry has been discovered scrapping real climate data for models. The American Thinker reports that Environment Minister Catherine McKenna has decided that because "man-made global warming" is an existential threat to humanity, it is crucial that control of energy use be handed to the government. So mere actual, historical data that might raise doubt about the extent of purported warming over time must be thrown out and replaced by "models" of what "scientists" think the historical temperature record must have been.
"Canadians already suspicious of  Justin Trudeau's carbon tax are likely be even more suspicious given a report by Ottawa-based Blacklock's Reporter that Environment Canada omitted a century's worth of observed weather data in developing its computer models on the impacts of climate change," Toronto Sun's Lorrie Goldstein reported last month. "The scrapping of all observed weather data from 1850 to 1949 was necessary, a spokesman for Environment Canada told Blacklock's Reporter, after researchers concluded that historically, there weren't enough weather stations to create a reliable data set for that 100-year period."
Blacklock's notes that in many cases the scrapped data indicated higher temperatures in the past: For example, Vancouver had a higher record temperature in 1910 (30.6C) than in 2017 (29.5C). Toronto had a warmer summer in 1852 (32.2C) than in 2017 (31.7C). The highest temperature in Moncton in 2017 was four degrees cooler than in 1906. And so on. Just as several other institutional climate gatekeepers including NASA, the Climatic Research Unit (CRU) at the University of East Anglia and NOAA have been caught adjusting past temperatures downwards and more recent temperatures upwards in order to make "global warming" look more dramatic. Plus ça change…
SNC-Lavalin Scandal
Then there's the SNC-Lavalin scandal which has dogged Trudeau since former justice minister and attorney general Jody Wilson-Raybould  testified earlier this year that Trudeau and his staff pressured her improperly and repeatedly to arrange a deal much like a compliance agreement, to help the company avoid a criminal prosecution related to its allegedly corrupt practices in Libya.
Trudeau has denied any impropriety, putting the whole thing down to miscommunications and misunderstandings. Nevertheless, it led to the departures of Wilson-Raybould and fellow minister Jane Philpott from cabinet and the Liberal caucus, the resignation of Trudeau's principal secretary Gerald Butts (who has since returned) and the early retirement of Michael Wernick, formerly Canada's top civil servant. And Trudeau continues to stonewall any attempts to investigate the matter further.
What are Trudeau's real beliefs?
All the above are reflections of Trudeau's mentality and those of his minions who, while promising to save the earth and mankind, continue to produce destruction. The heart of his nationalized destruction is abortion, the wilful killing of innocent unborn children at any stage of pre-born infancy.
Which makes it all the more remarkable is that Trudeau, who was baptised and raised a Catholic and remains a nominal member of the Catholic Church, is such a ferocious opponent to several Catholic doctrines concerning the right to life, euthanasia, and marriage. Which is what should worry Catholics the most.
Indeed, how can any Catholic vote for a prime minister who is so pro-abortion that he will not permit pro-life members of the Liberal Party to run for office? Nor, scandalously, has he allowed Canadian businesses to participate in summer student work programs without pledging their fidelity to so-called "reproductive" and "transgender" rights and same-sex unions, with no recourse to conscious objection. Why?
He has also refused to condemn sex-selection abortion while at the same time pledging in 2017 some $650 million Canadian tax dollars to contraception and abortion programs in developing countries, a move which earned him the criticism of Toronto's Cardinal Tom Collins. And that same summer, Trudeau encouraged Ireland's first minister to legalize abortion in that country after the two marched together in Montreal's Gay Pride Parade.
Yet despite holding contrary positions to Catholic moral teaching, Trudeau presents himself for Holy Communion at Catholic services, though that may change with his most recent public statement that he no longer personally opposes abortion. Apparently while on the campaign trail in Montreal, Trudeau told reporters he has evolved after a CBC news story quoted him eight years ago saying he believes in a woman's "right" to choose abortion but personally disagrees with it. "I evolved past that particular perspective," said Trudeau recently. "I continue to be and will always be fully pro-choice, but I no longer feel that I can or need to say that I'm against abortion. That's not for me as a man to say. I will always be pro-choice."
And in June, he put Canadian taxpayer dollars where his mouth is with his announcement at the Women Deliver Conference in Vancouver that, if re-elected, his government would increase spending on "international sexual, reproductive, maternal, newborn and child health" until reaching a total of $1.4 billion annually in 2023.
Meanwhile, at the UN, where Trudeau has been campaigning for a seat on the Security Council, he has aggressively pushed for abortion, and lobbied for universal acceptance of SRHR. The result? Instead of bringing Canada "back" to the world stage, as he famously bragged after being elected, his single-issue focus on abortion has tarnished Canada's reputation and, over the course of his tenure, alienated many of Canada's allies such as the U.S., unable to reconcile this single-minded focus on abortion when there are so many other pressing international demands. But if Trudeau gets his way, Canadian taxpayers will spend at least $7.1 billion by 2030 on the institutionalized killing of defenceless babies.
Still, there's more to this picture than is readily apparent.
The Communist Template
Over the years, successive political parties in Canada have been elected with promises of welfare, guaranteed minimum income, employment insurance, maternity/paternity leave benefits, subsidized daycare and free medical care. These are the same things Communist dictators provide their citizens while forcing women to work for the state. So Trudeau's well known admiration for the Communist Chinese dictatorship is consistent with his self-proclaimed "feminism" and the steady increase of decisions and statements by political leaders across Canada displaying  a contempt for Canadian citizens who value moral beliefs based on religion or conscience. Such as former Alberta premier Rachel Notley who complained the curriculum of the Catholic School Boards was unacceptable. And Quebec and Ontario governments mandating school curriculums diametrically opposed to the moral teachings of religious groups.
So no surprise that on the national level Trudeau has demonstrated a totalitarian attitude unprecedented in Canadian history. From prohibiting any pro-life person from running as a candidate for the Liberal Party, he has also exercised absolute authority in driving an anti-religion, pro-abortion agenda and committed billions of Canadian taxpayer dollars to the UN Population Control Fund. In 2017, he even threatened to withhold health funding in PEI if they didn't arrange to provide abortions on the small island province.
The same dictatorial attitude was exhibited in June 2017 when the Liberals shut down democratic debate in order to drive through a bill to legalize assisted suicide/euthanasia which prohibits any type of objection based on conscience rights. And five months later, Trudeau attempted to remove from the Criminal Code the only provision protecting freedom of worship and then appointed Sheilah Martin to the Supreme Court, the first judge to approve assisted suicide in Canada.
Euthanasia to expand
That picture got much worse when last month a Québec court struck down the provision in Canada's euthanasia (MAiD) law requiring that a person be terminally ill to qualify for death by lethal injection. The court decided that requiring that a person's "natural death must be reasonably foreseeable" was unconstitutional and gave the government 30 days to appeal the decision.
But further danger looms, as noted by Alex Schadenberg, director of the Euthanasia Prevention Coalition, who warns that this latest court decision may extend euthanasia to Canadians for psychological reasons alone. "Since the court struck down this poorly worded safeguard, will this expand euthanasia to people with psychological issues alone?" he asked in a recent article for LifeSiteNews. The government had already announced a five-year review of the law will begin next June. And Trudeau announced in the recent French debate that not only will he not appeal the Quebec court decision, he will also ignore the input of Canadians and impose a more permissive euthanasia regime soon after the election. Between December 2015 and December 2018, 7949 Canadians were euthanized. And if Trudeau wins a second term on October 21, expect that number to rocket.
Bankrupting deficits
As will the Liberals' ever expanding deficits. The incumbent Liberals financial plan over four years represents a doubling down by Trudeau on deficit spending his team says is needed to stoke growth and provide help to struggling households, many with high levels of personal debt. In the 2015 election campaign, he pledged to run deficits for only three years and no more than a cumulative C$25 billion. Since taking power, however, his budget gaps have escalated and Trudeau has abandoned any willingness whatsoever to balance the budget. In fact, he's using his deficits as a lever to attack the opposition Conservatives, claiming they plan to bring austerity measures that will slow the economy and eliminate government services.
Ethics Violations
All of which strains credibility to breaking point for a prime minister who, this year, became the first in Canadian history to be found guilty of a single ethics violation, never mind two. In essence, the prime minister broke the rules twice and was found guilty of violating four sections of the Conflict of Interest Act governing public office holders, stemming from two 2016 vacations on Bell's Cay, a private island in the Bahamas owned by the Aga Khan whose foundation has received more than $300 million in government money since the 1980s and, as Trudeau claimed, is a family friend though he hadn't seen him in 30 years.
Trudeau's second infraction was related to actions he took through his staff, seeking to improperly further the interests of the Quebec-based company, SNC-Lavalin, by pressuring his attorney general Jody Wilson-Raybould to "interfere" with a criminal prosecution. Trudeau said he was trying to save 9,000 jobs but the ethics commissioner rejected the argument. The question remains, however, in the minds of many Canadians: Why don't ethics violations carry any punishment?
Other Messes
Then there's the Foreign Policy Mess – which includes Canadians languishing in Chinese jails, an enraged Saudi government, the India trip fiasco, a canola trading disaster and a senior Huawei executive under house arrest in Vancouver awaiting extradition to the U.S. – a mess far too large and too chaotic to allow space here.
Ditto for the Cannabis legalization debacle. Rolled out recklessly and with almost no workable plan a year ago, it seems every news story related to this "good thing" is as negative as the smell of "skunk" now so ubiquitous in Canadian cities. This has nowhere to go but down.
The 'Character' issue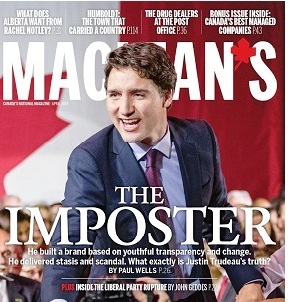 Which brings us to the central question for any Canadian voter. Character. Here is a politician and former "actor" who insists he is standing up for women's rights, the results of which is the killing of hundreds of thousands of unborn children, both at home and abroad.
When considering the number of partisan issues now faced by Canadians, we should have a genuine fear of a prime minister with such contempt for democracy and the actual "individual rights and freedoms" of citizens. There is no legal right to abortion under Canada's Charter of Rights and Freedoms, but that doesn't stop Trudeau from making his own decrees.
He's also made it abundantly clear that while pretending to allow Canadians to believe whatever they want, if they interfere with his beliefs there are going to be consequences. Which means there is good reason to question his psychological fitness to govern a democratic country which, according to his own words, isn't a country with a defined culture but is instead the world's first post-national state where "there is no core identity, no mainstream," though no one seems to have bothered to ask what, exactly, he meant by that.
The Great Pretender
This is a politician pretending all the time. Pretending he's interested in having a pipeline to encourage Canadian prosperity while doing everything possible to thwart it, and who knows for whom? An elitist politician so uninterested in Canada and its history he doesn't oppose the removal of statues of Canadian figures such as Canada's first prime minister, Sir John A.Macdonald. A politician so committed to absurd notions of equality that by correcting a woman at a townhall to use the term 'peoplekind' rather than 'mankind' he unleashed a global gale of mocking laughter and managed to morph into a parody of himself. And if  he was joking – something most people doubt – the point stands, making Canada a laughing stock once again. A politician so eager to curry favour with the UN that he supports all its globalist ambitions, particularly Climate Change and it programs justifying the reduction of human populations – all without a scintilla of serious evidence and widely decried by sceptical scientists who are routinely denounced as 'deniers' for rejecting the notion that the sky is falling.
The Bigger Picture
Yet, despite all the above, something much larger is at work here. So pull back and take a look at the larger picture because Canada, if it is to remain a nation, depends on seeing the truth.
Here is a prime minister – found guilty of two ethics violations for the first time in Canadian history – who tried to force his own attorney general to break, twist and pervert the law in the SNC-Lavalin scandal while continuing to silence anyone who might expose the truth of why this happened and who the intended beneficiary was. Here is a prime minister who brought legalized cannabis to Canada with reckless abandon and is promising ever more liberalized euthanasia paid for by Canadian tax dollars.
All of which leads to the inescapable conclusion that this isn't simply a prime minister and party making bad choices. This is prime minister and party choosing the bad over the good, all the while pretending it's all good – none of it the least beneficial to Canada which is being hollowed out financially, physically and morally to the point that Trudeau deems it isn't even a country anymore.
So Catholics and Canadians in general take notice: the systematic denial of all that is good, the embracing of evil and calling it good is actually reversing the course of Canada itself, reversing the course of the martyrs, the saints and the builders of Canada over the centuries, all the while negating her past and her Christianity while at the same time restoring the primitive and embracing pantheism and so much else. This, in a word, is called de-civilization.
Is this what you want?
Justin Trudeau's father, Pierre Trudeau, began the destruction of this magnificent country with an omnibus bill in 1969, allowing abortion and eventually resulting in Canada becoming the only nation on earth with no abortion law whatsoever, all the while compulsively aiding in the further destruction of the unborn in other parts of the world. Why? Who does that? Most readers know the answer and also know that that's a lot to answer for.
Now step further back, observe a fuller picture and answer this question? Have you ever wondered why politicians proclaim loudly their support for abortion and every other death-dealing practise? Might it be because political support for abortion, euthanasia, transgenderism, climatism, hedonism and the "right" to all manner of human degeneracy are today the credentials required for achieving and maintaining worldly power?
Now ask yourself, has this been a prime minister interested in serious power? And by systematically dividing us while ignoring Canada's burgeoning national history, actual needs and real accomplishments, has Trudeau ever shown through his actions that he genuinely cares for Canada and Canada's future? Or has he revealed himself as a politician seeking power through an international globalist cabal intent on the complete reversal of Christendom? And as a minion to whom the truth is meaningless, as it is with all good revolutionaries? A politician whose logo is Choose Forward, as was Lenin's and so many of Lenin's communist successors.
Do you now see that the Canada – once so admired and which we all believed to be a gift of God, pristine and well intended in its government practises – has become profoundly corrupt? And most particularly during the past four years under Justin Trudeau?
And knowing all that, do you still want to vote for him?