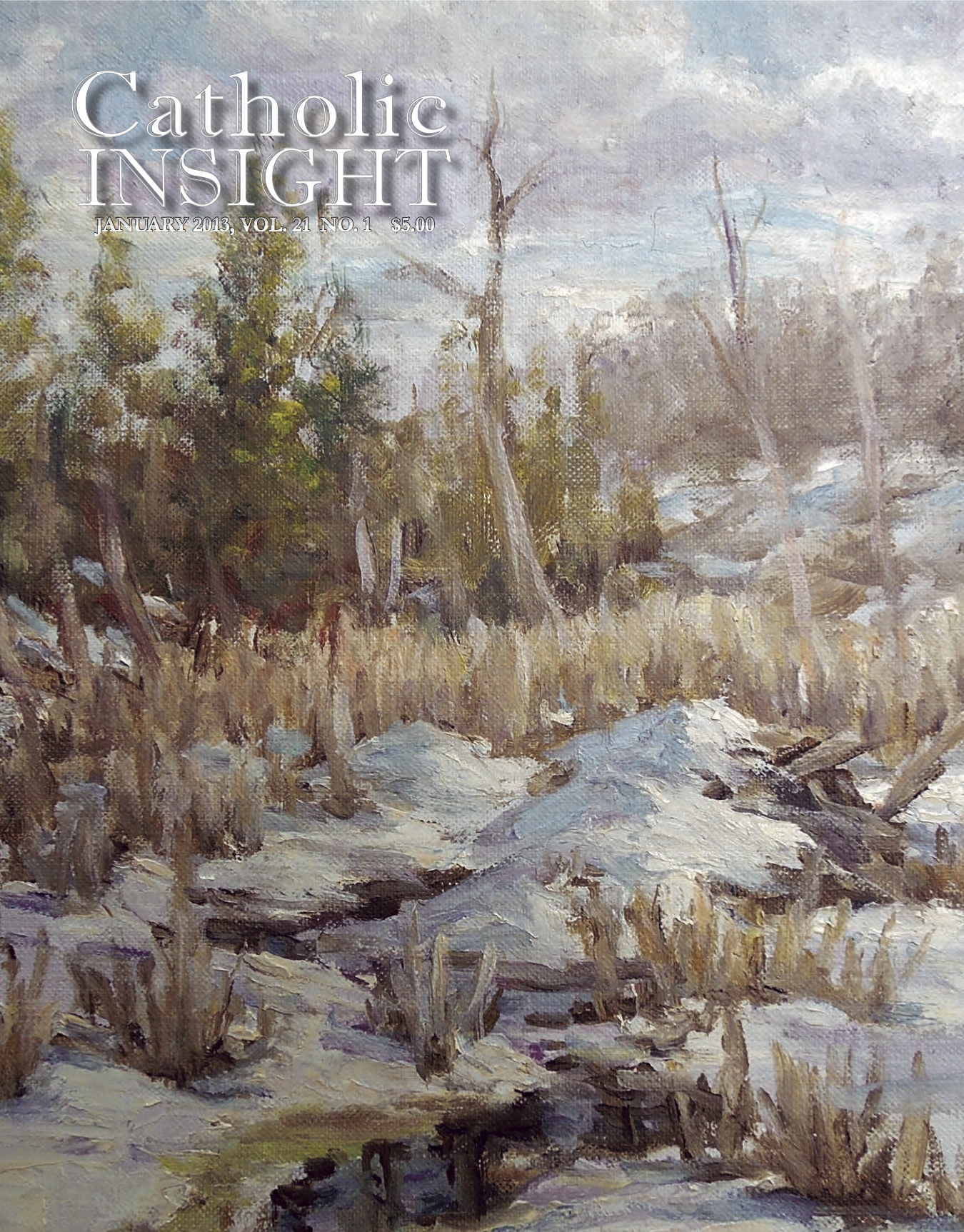 Our January 2013 cover artist, Francis Dvorak, holds a BA in Philosophy from the University of Toronto. He studied painting under Michael John Angel, a student of Pietro Annigoni. He resides in Toronto and has a studio in North Kawartha, Ontario.
What is this piece about?
This piece is called "Spring thaw, Eel's Creek." is is one of my favourite spots on Eel's Creek and I love to return there at different times of the year. is was done in early spring, when the ice is starting to break up and flow. e scene changed very rapidly—when I returned for my second day of painting, most of the ice was gone.
When did you start painting?
I have always enjoyed drawing and painting when I was young, but I started studying art seriously after university. I studied in Toronto and in Florence, Italy. It was a very classical approach to art, where you studied a lot of works of the old masters and copied classical sculptures. I also taught for a number of years with Michael John Angel at his school in Toronto, the Angel Academy of Art.
Why did you make painting your profession?
I have always had a great love of nature and I realized painting nature taught me to see more—to see the things around me in greater depth. I believe that we live in a fragmented world and art and beauty harmonize vision. And through art, by looking at piece of art, other people can understand how the artist sees the world.
What do you do with your pieces? Are they ever shown? Are they for sale?
Some are commissioned: I have done a portrait of Cardinal Ambrozic for St. Augustine's Seminary and a portrait of Archbishop Spence for the rectory in Kingston, Ontario. I have done about fifty commissioned portraits, six murals, and twenty stained-glass windows. My work is for sale, and I have done a number of shows, often at the John Libby Gallery in Toronto, but also shows in Canada and Britain. I also do restorations.
How would you define beauty?
Beauty would be harmony of context. It has a lot to do with relationships of elements. I am also interested in geometry of life—the study of how things grow and how they are connected to the Fibbonaci Sequence, a series of numbers that govern growth and development of natural forms. So I try to understand that natural aspect.
What is the purpose of art?
Art is really learning to see. A lot of our perception of the world is distorted or controlled by our desires and goals and ambitions, and there is a great deal we miss. To learn to paint you have to clear out your mind and let things gradually reveal themselves. ere is a great deal of joy that you find in appreciating that beauty around you.