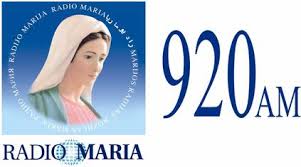 Radio Maria Canada launches month-long Mariathon
to support local and global initiatives
Radio station calls on listeners to help raise funds for much needed services 
TORONTO, May 3, 2018 – During the month of Mary, Radio Maria Canada hosts its annual Mariathon – a campaign held every May through which member networks around the world raise money for Radio Maria ministries that are in financial need – in countries where funds are scarce.
For the first time, this year, Radio Maria Canada will extend its Mariathon throughout the entire month to support the Radio Maria Canada ministry in its work here in Canada.
"More than ever, Canadians need to discover and re-discover the grace of faith, the joy of hope and the power of love over hate and despair," says Dr. John Romanelli, president of Radio Maria Canada. "The additional funds raised during Mariathon will help us complete annual projects and recruit additional volunteers to join us in reaching those most in need, through radio, a medium that is readily available to all."
On Friday, May 4 and Saturday, May 5, the radio station will focus on the international campaign, with donations going to sister channels in countries of need. The charity is aiming to raise $10,000 for its international beneficiaries in need, and another $10,000 for the relocation of our Montreal office including a new mixer and built-in studio. 
"Like our sister networks, Radio Maria Canada does not receive any financial support from government or advertisers and relies mainly on volunteers and the financial support of listeners," says Fr. Charles M. Grech, ofm, director at Radio Maria Canada. "We are inviting our listeners to open up their hearts and consider donating to our Mariathon this year, or to help us gain the support of someone within their circle of family or friends. The Lord has blessed us with the gift of Faith – and the ministry of Radio Maria. We hope to redouble our efforts to radiate this good news to all – at home and around the world."
Founded in 1995 by Luigi Pautasso, an inspirational Italo-Canadian (1931-2013), Radio Maria has been broadcasting in Italian since its beginning and, since 2005, in English. A registered charity mainly operated by a dedicated team of volunteers and a small group of employees, Radio Maria Canada does not accept advertising or government funding – but rather relies on the providence of God and intercession of Mary.
From its beginning, Radio Maria has had an agreement with its listeners, confirming that this wonderful adventure would continue so long as there is an audience willing to make sacrifices to support it. Through its two channels, listeners can tune into Holy Mass, Liturgy of the Hours, Rosary, catechism, programs on human formation, news in the global and local Church and music which elevates God, instills peace and encourages prayer.
Radio Maria networks are available to all, free, online and through an app for Apple and Android. Listeners who prefer a physical radio can purchase the Radio Maria WiFi radio for a one-time cost.
To become a volunteer, learn more about Radio Maria or to listen live, 24/7, visit radiomaria.ca.
Media information:
Daniel Torchia  / 416-275-2151 / daniel@torchiacom.com
Karen Parucha  / 416-898-4336 / karen@torchiacom.com