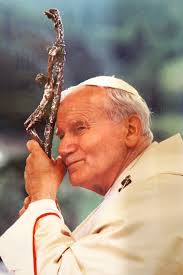 JOHN PAUL II
ANGELUS – ALL SOULS DAY
Sunday, 2 November 1997
Dear Brothers and Sisters,
1. Yesterday we celebrated the Solemnity of All Saints and today the liturgy invites us to commemorate the faithful departed. The Church links her contemplation of those who have already attained God's glory with her remembrance of those who have gone before us marked with the sign of faith and who now sleep in peace (cf. Roman Canon).
I spiritually join all who in these days are visiting the graves of their departed ones in the cemeteries of Rome and the whole world. I go on spiritual pilgrimage especially to where the victims of violence and war, of injustice and hunger are buried. May Jesus, who said: "I am the resurrection and the life" (Jn 11:25), grant to all the departed the rest of the just and the fullness of eternal life.
(To continue reading, please see here).