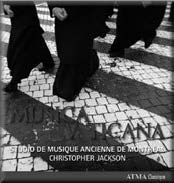 Musica Vaticana
Featuring Christopher Jackson (Artistic Director)
ATMA Classique, 2011
The Cappella Giulia is the name of St. Peter's choir in Rome, founded in 1513 by Julius II. All the composers on this CD provided music covering the High Renaissance and Baroque periods. Francesco Soriano (1549-1621), Orazio Benevoli (1605-1672), Giovanni De Macque (1550-1614), Roland De Lassus (1532-1594), Giuseppe Ottavio Pitoni (1657-1743), Vincenzo Ugolini (1570-1638) are all composers whose reputations have never been revived in our day (except De Lassus). The shadows of Palestrina and Monteverdi have fallen long over this period's liturgical choral works, eclipsing all other masters.
Studio De Musique Ancienne De Montreal has specialized in religious choral masterpieces for almost four decades and are internationally recognized, having toured widely over the years. Some of the group's recent recordings have focused on composer Arvo Part (Stabat Mater), early English Anthems, Italian music (Orlando Di Lasso and Vaticano repertoire) and the Marc-Antoine Charpentier Mass for Four Choirs masterpiece.
Christopher Jackson, a career organist, harpsichordist, and choir director, co-founded the group in 1974 and has been artistic director since 1988. Jackson has attracted some of the finest singers in Montreal, people who also enjoy solo careers, like tenors Nils Brown, Michiel Schrey, and bass Normand Richard. The continuo on this recording consists of cello, harp, violin, contrabass, and organ. The texts are given in the original Latin, French, and English.
There are myriads of Italian church composers from this period who are still little known to concert goers or audiophiles. Most of the early music from Italy researched, performed, and recorded in the last half century has been repertoire that was instrumental, operatic, and keyboard works. Sadly, this is a by-product of our increasingly secular age. Hopefully CDs like this one help redress that situation. Musica Vaticana is a great place to start appreciating choral masterpieces, from this age of Italian music.
© Paul-James Dwyer 2014