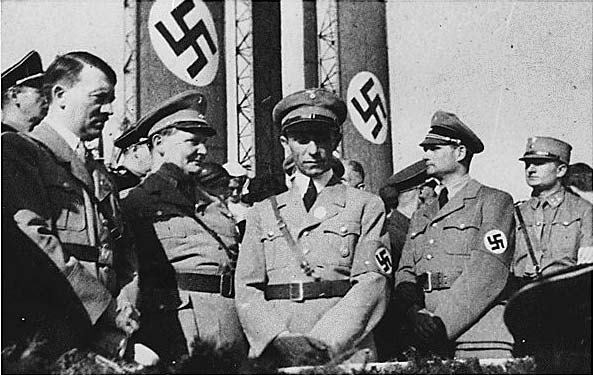 History does not repeat itself, but it rhymes. – Mark Twain
Si vis pacem, para bellum – If you want peace, prepare for war.
This weekend marks the 83rd anniversary of the infamous "Night of the Long Knives" (sometimes referred to as Operation Hummingbird).  Hitler has ascended to the position of Chancellor of Germany, and on June 30th through July 2nd , 1934, he successfully liquidated hundreds of political competitors (many of whom were themselves were Nazi members). The purge marked a critical point in the rise of Nazi Germany, and it should have been a wake up call to the Allies.
Germany understood that the future would be determined by air power, and correspondingly devoted resources towards expanding the German Air force.  Even at this late hour, Brittan stood a chance of stifling the emerging threat of Nazi Germany by beginning to build fighter planes and invest in general defense.
It didn't. In fact, it did the opposite. The French and British were discouraged from developing any new military capabilities. Such actions, or so the popular opinion held, could possibly have led to tensions with Germany. In the meantime, Germany was building an army.
The post World War I climate in England was overtaken by a liberal ideology that blinded itself to the possibility of foreign aggression, and saw any attempt to bolster the military as a direct threat to international peace.  This exemplified a flaw within secular peace-loving societies: A democratically elected government, through misplaced sentiments of peace and fraternity, can miscalculate the risks posed by foreign aggressors. Instead, it attempts to handle threats with impotent liberal policies.
Winston Churchill is famous for his prophecies of doom during this period. In November 1934, during the Winter Session of Parliament, he spoke on the need of British action to curb the Nazi threat:
I assert first, that Germany already, at this moment, has a military air force… that is rapidly approaching equality with our own. Secondly, by this time next year, if Germany executes her existing programme without acceleration, and if we execute our existing programme on the basis which now lies before us without slowing down, and carry out the increases announced to Parliament in July last, the German military air force will this time next year be in fact at least as strong as our own, and it may even be stronger. Thirdly, on the same basis—that is to say, both sides continuing with their existing programmes as at present arranged—by the end of 1936, that is, one year farther on, and two years form now—the German military air force will be nearly fifty per cent stronger, and in 1937 nearly double.
Immediately after Churchill finished, Mr. Baldwin, head of the disarmament movement in Britain, presented the rebuttal:
It is not the case that Germany is rapidly approaching equality with us… so far from the German military air force being at least as strong as, and probably stronger than, our own, we estimate that we shall still have a margin in Europe alone of nearly fifty per cent.
The inaccuracy of Mr. Baldwin's statement was brought to light while, during a March 1935 visit to Germany, the Foreign Secretary was personally told by Hitler, that Germany had achieved air party with England.
Today we face a similar crisis. The threat of radical Islamic terrorism can no longer be ignored; the mere suggestion of positive action against it, however, is denounced as racially insensitive, contributing to the problem, or even prosecuted as "hate speech".
The problem has progressed to the point that European countries have declared No-Go zones within Muslim majority neighborhoods. Video footage of French police cars being violently attacked by gangs shouting Islamic phrases can be found floating around the Internet [1].  Even in Canada, there are reports of disquiet amongst the recent refuge population (one recent story of a Muslim woman throwing a brick at a teen is particularly unsettling [2]).
The lack of reliable coverage is frustrating. The media at large has displayed a clear bias in this regard (for example, footage of a staged protest following the recent London attacks[3]); another parallel with the disarmament movement of Britain, where the mere thought of bolstering the army was met with cries of warmongering.
Although there was great outrage following to recent attacks in London, the overall response of the Liberals in the UK is pathetic. In an interview [4] with Piers Morgan, the London Mayor, Sadiq Kahn, was even slightly defensive when pressed on his city's policy of allowing know terrorists live in London:
Piers: Where are they? No seriously, where are they?
Khan: The Met police budget, roughly speaking, 15 to 20 percent is funded by me the mayor. The rest comes from central government. If the Met Police budget is being shrunk and reduced, they have to prioritize and use their resources.
Piers: What could be a bigger priority than people coming back from a Syrian battlefield with intent to harm British citizens?
The left's stance on religion in general is muddled. Bernie Sanders called for stricter regulations of the free speech and monetary practices of religious institutions, and President Obama's statement about middle-class America sticking to its "religion and guns" should be classified as a micro-aggression. Overall, the current liberal stance on religion is hostility, except, ironically enough, towards the most hostile religion, radical Islam. How many more random acts of terror and violence will it take to wake the West up to the existential threat posed by Islamic terror?
Conservatives have been beaten into subjection on this issue; their lethargy is truly depressing. Donald Trump, for all his many flaws (and make no mistake; there are many, many flaws), should be commended on his travel ban. The 90-day executive order is a ban on immigration from several terrorist saturated nations. Even Elon Musk, who is a far cry from a Trumpeter, commented on the rationality of the ban.
The recent Supreme Court partial reversal of the ban of the ban by lower courts is encouraging. However, the ban doesn't go far enough. It is only a 90-day ban. It ignores some countries. It isn't a long-term solution.
There is a very real and pressing refugee problem. The humanitarian crises created by the seemingly endless wars in the Middle East cannot be ignored.  The tragedy of the situation has evoked strong emotions of charity in an otherwise irreligious secular society. The vacuum created by a rejection of authentic religion in western countries has been filled by the dogma of left-wing ideologues.  This dogma of acceptance and love strikes a similarity with the doctrine of Christ, but in reality it turns a blind eye to actual dangers that existentially threaten Western civilization.
[1] https://twitter.com/EngageTheRebels/status/877746530119163905
[2]https://www.therebel.media/exclusive_refugees_fight_canadians_with_rocks_bricks
[3] https://www.youtube.com/watch?v=tb5PPnuu3bs
[4] https://www.youtube.com/watch?v=xcQo8C8bwKw