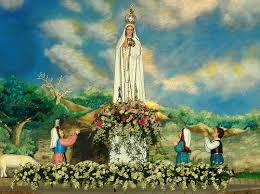 Today is the commemoration of Our Lady of Fatima, a title given to the Virgin Mary after she appeared 'brighter than the sun, shedding rays of light' to three shepherd children in the summer of 1917 (no painting ever did Our Lady justice) just outside the village of Fatima, in central Portugal, about 76 miles north of Lisbon.
The accounts of the visions, along with the still-as-yet-unexplained miracle of the dancing and twirling Sun, which took place, with one or two exceptions, on the 13th of each month until October of that year, can be found in countless books and articles.  What we as Catholics should keep in mind is that today's memorial does not canonize everything within these appearances, nor all the locutions and revelations.  There are many things mysterious and, one might say, confusing about Fatima that one is free to accept, or not, or accept with some degree of reservation and explanation.
Just ponder a few examples of questions we may ask:  Are numerous souls really falling into hell like burning embers, shrieking in anguish?  Did the Sun really become unmoored from its astronomical course and whirl around the cosmos?  Did God suspend the law of nature, in particular gravity, for this occurrence?  Or was it an optical illusion of sorts, a 'vision' given to all the people, to teach them the power of God over nature?  Did the children receive Holy Communion from an angel, and what sort of 'Communion' was this, without the apparent species of bread?  What is the status of the 'three secrets', which were supposed to be revealed in 1960, but instead were made public in the Jubilee Year 2000 by Cardinal Ratzinger?  Did Our Lady really 'guide' Ali Agca's bullet that should have killed Pope John Paul on this day in 1981?  It seems the Pope himself thought so, and I for one believe she did, as she may well have saved my life more than once.
These are really side issues, for in the midst of all the titillating mystery, we should always go back to the basic and ultimate purpose of private revelation, whether large and approved (Fatima, Guadalupe and Lourdes) or smaller and less well-known, all the way to our own 'private' revelations in our personal prayer (and let us not forget that even the most famous of revelations began with a one-to-one encounter):
Private revelations, as the Catechism declares, "do not belong…to the deposit of faith.  It is not their role to improve or complete Christ's definitive Revelation but to help live more fully by it in a certain period of history" (CCC, #67).
That is why the Catechism goes on to make very clear that "Christian faith cannot accept "revelations" that claim to surpass or correct the Revelation of which Christ is the fulfilment".
Thus, any revelation that supports Christ's Revelation (found in Scripture and the Church's Tradition) is good, while any revelation that negates, or even purports to go beyond or improve Christ's Revelation is bad and must be rejected.
We may think of clear examples outside the Christian fold, like the 'revelations' Muhammad claimed to have received, or Joseph Smith and the Mormons, or even Luther in his fevered and enthusiastic soul as he drifted away from the Church, which are obviously false, even if mixed in with some truth.
Rather, the 'good' private revelations remind and exhort us to live out more fully and perfectly in a particular era and historical setting what has already been given to us by the Church:  Our Lady of Fatima exhorted the children (and us) to be more diligent in praying the Rosary, to do penance for sinners, to pray for peace, especially for an end to the World War, to go to Mass and Communion and so on.  Lourdes was much the same, as was Guadalupe and all the other good and approved 'visions', all the way down to our own personal prayer, which is itself a kind of private revelation, our own face-to-face time with Christ, Our Lady, the saints who speak to us in their (and our) own way.  That is why the Church offers guidelines for our prayer, which should be Christocentric and immersed in the Church's Tradition and Scripture.  Every Catholic should peruse the very apt 1989 instruction Some Aspects of Christian Meditation to learn what is useful, and what is not, and what is downright wrong, as we develop in our prayer life.  And let us not forget the dire words in the current Catechism, quoting Saint Alphonsus Ligouri:
Those who pray are certainly saved; those who do not pray are certainly damned. (CCC, #2744)
We may add to this that those who pray well are certainly saved, for it may not always be God who speaks to us in prayer, if we choose to go off on our own, on paths too dark and deep for us.
We should therefore test the spirits, as Saint John tells us, to see which are from God, and which are not.  The Church's teaching is the guide and lodestone, the pillar and bulwark of truth, and Our Lady, or any saint, will always lead us back to Christ, His Church, the moral and ecclesiastical law and the sacraments, and eventually heaven.
Any other revelation is illusory and a wide and easy road to the 'other' place of which the children had such a vivid vision in the true revelation of Fatima.