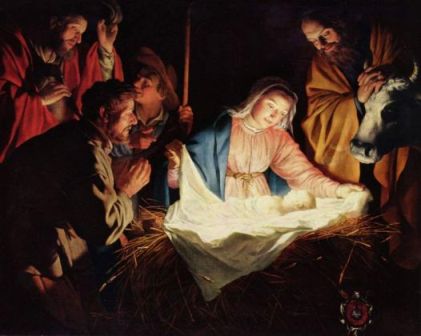 The thief comes only to steal and kill and destroy; I have come that they may have life, and have it to the full. (John 10:10)
For in Christ all the fullness of the Deity lives in bodily form, and in Christ you have been brought to fullness. He is the head over every power and authority. (Colossians 2:9-10)
It seems that as human beings, we have been haunted by the fear of want from the very first moments of our existence. Infants cry whenever they are hungry, thirsty, or in need of affection. As we grow up, we learn to anticipate and fear our various wants and inadequacies. All human beings long for fullness in every area of life: We want to have material and financial sufficiency, lasting affection and warmth in all of our relationships, as well as a sense of purpose, dignity and worth in our daily lives. This universal longing for fullness in all areas of life and our perpetual striving to achieve it are the hallmark of human civilization.
It also seems, however, that this fullness that we're so intensely longing for constantly eludes us. No matter how carefully we try to arrange our finances, relationships and lifestyle, we are constantly dodged by some form of brokenness—something that threatens the fullness that we're so arduously striving for. A sudden illness, economic downturn or even a simple misunderstanding can potentially upend our careful striving and deprive us of this fullness of joy and happiness that we've so ardently longed and worked for. In fact, most of our "ugly" side as human beings appear when we feel threatened. We are so afraid of being deprived, in want, rejected and abandoned that this fear often provokes us to do rash, harmful and sinful things to one another.
Very few of us, for example, start a relationship or endeavour with the express purpose of doing harmful or sinful things. In fact, our original intention was usually to achieve fullness through this particular relationship or endeavour, and thus give meaning to our lives. The trouble starts when we feel that our quest for fullness and happiness is being threatened. At such a time, many people resort to doing hurtful things to one another. In fact, many people's struggle for certain "rights"—such as the right to have an abortion, to be assisted in suicide or to adopt a harmful lifestyle with the Church's blessing—comes from this primal fear of being deprived of fullness. Ironically, they are actually not fighting for any of these 'rights' per se, but rather for a life of fullness. And this fullness of life and happiness is exactly what Christ came into the world for: "I have come that they may have life, and have it to the full[1]."
It may be difficult to see this purpose amidst the boredom, struggles and sinfulness of our daily lives. It may even be more difficult to see it amidst the schisms, scandals and disputes that are rocking our Church today. Just like everything truly good in life, it takes great faith to perceive, receive and live out this fullness that Christ has come to give us. Most of the time, we've been so used to living life in fear of deprivation that we cannot perceive the lavishness of God's love when it comes to us. Scripture is rife with such examples: Abraham's wife Sarah, for example, received the message of Isaac's birth not with joy, but with fear and incredulity[2], while Gideon asked for various kinds of signs as "proof" that it was truly God who spoke to him[3]. Similarly, the ancient Israelites who came out of Egypt were always grumbling and rebelling against God in the desert in their fear that instead of being led to the Promised Land, God was actually deceiving them and leading them towards death and destruction[4]. And the priest Zechariah, despite being an upright person in God's sight who blamelessly observed all of God's commands and regulations[5], reacted to the angel Gabriel's message of St. John the Baptist's impending birth with doubt and unbelief instead of joy[6].
But our Blessed Mother was different. Despite being a simple teenage girl from Nazareth, seemingly lacking in experience and erudition, she believed the angel Gabriel's message and rejoiced in God's plan for her and for the world[7]. As St. Elizabeth proclaimed, our Blessed Mother is blessed amongst women because she believed that what the Lord has said to her will be accomplished[8]. The Blessed Virgin had the faith and purity of heart to perceive the fullness of God's love and receive it into her life. Catholic mystic Caryll Houselander once wrote, "Our destiny is to live the Christ-life: to bring Christ's life into the world; to increase Christ's love in the world; to give Christ's peace to the world …" [9]
And this, my very dear friends, is only possible if we adopt our Blessed Mother's attitude in perceiving and receiving the fullness of God's love into our lives.
Scripture proclaims that we have been given fullness in Christ[10]. But we need to constantly renew our faith and purity of heart in order to perceive and truly live out this fullness of love and live that our Lord has given us. Otherwise, we would be like people who are starving in the midst of a lavish feast, constantly turning to various things and 'rights' that will never truly satisfy our deepest longings. Scripture encourages us to fix our thoughts and minds on Jesus[11], who is Himself the joy of our desires, the fullness and love that we're all longing for. And how exactly does the Lord satisfy our deepest longings and desires? Our Lord knows how much we fear deprivation, scarcity and emptiness, and so He took on His own self these very things that are so repulsive to us. He was born in a manger, the humblest possible place for a person to be born in. The good news of His glorious birth was announced immediately not to great potentates, but to humble shepherds who were watching over their flocks in nearby fields[12]. For the next thirty years, He lived a simple, poor and ordinary life in an obscure town in Galilee. When the time came for Him to die, He died a most painful, demeaning and humiliating death at a fairly young age, causing most of his disciples to sink into fear and despair. Why did our Lord choose to live such a life? He seemed to take every single thing that we find frightful and abhorrent, and take it up on Himself. "For you know the grace of our Lord Jesus Christ," St. Paul once wrote, "that though he was rich, yet for your sake he became poor, so that you through his poverty might become rich[13]." Echoing this sentiment, St. John the Apostle declared, "From the fullness of His grace we have all received one blessing after another[14]." Indeed, the Lord of glory has emptied Himself of His heavenly glory and took on our brokenness, so that in our brokenness we may always conquer through His love[15].
Christ, then, is the fullness of Love. His gift for us is the gift of His own self, who is Love itself[16]. If we continually receive Him into our hearts and live in union with Him, we need not fear dejection or deprivation, for the fullness of His love will always permeate even the worst of this world's brokenness. May we always have the wisdom to perceive His love, as well as the courage to live out His love and share it with others. The love of creatures may be marked by sin and ignorance, and thus powerless to conquer this world's brokenness. But the love of God, which has come into the world, is powerful and transformative. If, like our Blessed Mother, we have the courage to receive and continually live out His love, we shall gradually be transformed into His likeness with ever increasing glory[17].
Merry Christmas!
[1] John 10:10
[2] Genesis 18:12-15
[3] Judges 6:12-40
[4] Exodus 14:11-12, 16:3, 17:3; Numbers 11:4-6, 14:1-4.
[5] Luke 1:6
[6] Luke 1:18-20
[7] Luke 1:38, 46-55
[8] Luke 1:41-45
[9] Caryll Houselander, "Humbling Ourselves", from Wood of the Cradle, Wood of the Cross: The Little Way of the Infant Jesus (Sophia Institute Press, 1995), as quoted in the Catholic Education Resource Center, https://www.catholiceducation.org/en/religion-and-philosophy/spiritual-life/humbling-ourselves.html.
[10] Colossians 2:10
[11] Hebrews 3:1, 12:2
[12] Luke 2:8-20
[13] 2 Corinthians 8:9
[14] John 1:16
[15] Cf. Romans 8:37-39, Philippians 2:5-8, Hebrews 2:14-15.
[16] 1 John 4:8, 16
[17] 2 Corinthians 3:18