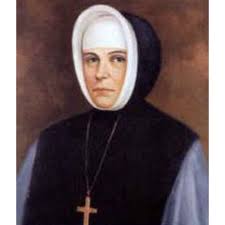 The Church in Canada venerates a number of Canadian saints and blesseds, almost all of them from Quebec, since the rest of Canada was officially and mostly Protestant, and the Church is not permitted to beatify members of other religions, for obvious reasons, even if they die with a reputation for holiness.
Such today is Blessed Emilie Tavernier Gavelin (+1851), born at the very beginning of the 19th century, and going to her eternal reward 51 years later. In the midst of pondering a religious, consecrated life (writing that she was giving up the 'dandies' and the pomps of this world), Emilie married a 50 year-old bachelor, Jean-Baptiste Gamelin, at the age of 23, from which union three children were born, two dying in infancy, and the third soon after M. Gamelin's untimely death four years later.
As a now 27 year old widow, with some financial means, Emilie devoted herself for the rest of her life to good works; after a novitiate under the bishop, she helped to found the Sister of Providence of Montreal, dedicated to social needs whatever they might be, not least, ahead of her time, the care of the elderly, who even back then Emilie found to be suffering from extreme and debilitating loneliness (and things have gotten much worse since then), as well as the insane (and mental instability is also now a near-epidemic). But they also, amongst other tasks, taught and cared for the sick, and now work in nine countries across the world.
It was while caring for the victims during a cholera outbreak that Emilie died after a brief illness, her last words being 'humility, simplicity, charity…above all, char…'
Indeed. The greatest of these is love, and we could do with more true charity in this world, and in this nation, rather than the fake, emotionalist variety, which quickly grows lukewarm, cold and indifferent. Only a vibrant faith and a life of prayer and self-gift (which implies some self-denial) can love burn bright.
Today is also the official feast of Our Lady of Walsingham, the primary Marian shrine of merrie England, destroyed by the troops of Henry VIII, and now flourishing once again in these days when England needs her spiritual Mother the most. See my reflections on my own pilgrimage there this past summer.
The feast of the Canadian Martyrs is coming up on Wednesday, and I will post something on them, but in the interim, if you are inclined, pray to them for this nation, the Catholic faith of which was nourished by their blood.