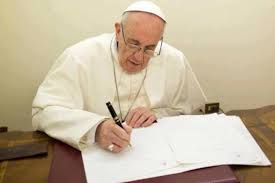 Amoris Laetitia can be interpreted as saying that couples in irregular relationship can be admitted to the sacraments of reconciliation and the Eucharist when they have a sincere desire to change their marital situation but cannot without causing harm, particularly to their children. That interpretation has been challenged, as we know. But some situations need special attention. Let me give an example:
Nearly two decades ago I became deacon in charge of a Catholic mission in the distant North of our country. At the time I arrived there, a lay women already had responsibility in the absence of the missionary priest who would come on a monthly basis. It did not take long for me to discover that this women was living common law with a divorced non-Catholic. She was a devout and generous woman which led me to believe that at the beginning of her relationship with the father of her children, her faith left much to be desired, but that in time it grew and she developed a relationship with Christ.  At the time I met her she had had been allowed to receive the sacraments. Continence was out of the question, as her partner would never have accepted that. She could leave him, but then, what would happen to her children? Nevertheless, I could not give her Communion and told her so, explaining that it would create scandal and that it would be against the guidelines of the Church. Although she was very saddened and cried, she courageously accepted my decision.
I also told her that she could invite Christ to come in her heart. That is also the solution offered by Cardinal Ouellet during the Amoris Laetitia debate on the topic. Can Christ be received outside the sacrament of his Body and Blood? Did He not say: "Truly, truly, I say to you, unless you eat the flesh of the Son of man and drink his blood, you have no life in you; he who eats my flesh and drinks my blood has eternal life, and I will raise him up at the last day." (John 6:53) Does that mean that all non-Catholics and Catholics who are not allowed to receive Communion cannot have Life in them? That does not accord with the Church's teaching and here is my thinking regarding this question:
Christ is One, fully human and fully divine. He is fully in the consecrated wine and fully in the consecrate bread. When receiving either one or the other of these elements, one receives the whole of Christ. But Christ is also the Word made flesh: St John writes "In the beginning was the Word…" "The Word became flesh and dwelt among us."  And he quotes Jesus as saying: "…whoever hears my word and believes in the one who sent me has eternal life and will not come to condemnation, but has passed from death to life." Also, "… whoever keeps my word will never see death." There are many such affirmations from the Gospels.
I conclude that whoever receives the Word of God in his heart and adheres to it in faith receives Christ integrally, as Christ is One. By receiving Him in this way one receives also his Body and His blood, although not sacramentally and consequently, not as perfectly..
Jean-Nil Chabot, Deacon
Jean-Nil Chabot, Ph.D. (Philosophy), a Permanent Deacon in the Pembroke Diocese at Saint Hedwig's Parish, has taught at Our Lady Seat of Wisdom College, but has been retired for a few years.  He wrote his doctoral thesis on the preamble to the Canadian Charter of Rights and Freedoms, which is the introductory sentence to the Constitution of Canada's Charter of Rights and Constitution Act of 1982. In full, the preamble reads, "whereas Canada is founded upon principles that recognize the supremacy of  God and the rule of law."