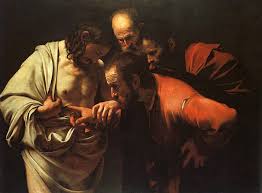 I hope that all our readers are enjoying their 'week of Sundays' during this Easter Octave, every day a solemnity, to be celebrated with great joy.  We reflect liturgically in the weeks to follow the founding of the Church, the earliest days of Apostolic ministry, the miraculous spread of the faith within Israel and beyond, into the land of the 'Gentiles', eventually to Rome, where Saint Peter ended up, as Vicar of Christ.  To this day, the Bishop of Rome is always the Pope, and the Pope, always Bishop of Rome, the Eternal City, where is centred Catholicism, truly the one, universal and eternal religion.
So rejoice and be glad, for Christ has overcome death.  Dominus surrexit vere, alleluia!
And remember, during the fifty days of Easter, we replace the Angelus with the Regina Coeli…
And speaking of leadership, I have an article published this morning in Crisis on the Holy Father's recent comments on populism.  Enjoy, and forward any comments you may have.
In the Risen Christ,