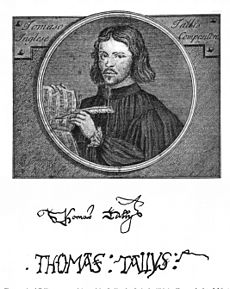 Tallis Choir of Toronto presents: Forty! Forty! Forty!
Saturday, November 25, 2017 at 7:30 pm
in Ottawa
St. Patrick's Church, 141 McCaul Street (north of Dundas, near St. Patrick Station)
Toronto, ON M5T 1W3; 416-598-3269
Students, $10 (at door only); seniors, $25; general admission, $30
Information or tickets:
info@tallischoir.com; http://tallischoir.co/ticketing/
Hart House Tickets
www.tickets.harthouse.ca; www.uofttix.ca
 Celebrate with Tallis Choir as we mark our 40th season with a performance of two 40-part motets. Alumni and friends join the choir to present Spem in Alium – perhaps Thomas Tallis' greatest legacy. Written for eight five-part choirs, the motet has 40 distinct parts. Each voice enters separately, and the intricate counterpart continues, making the performance a unique and thrilling experience for both singers and audience. The program also includes Alessandro Striggio's Ecce Beatam Lucem – another 40-part motet – which might have inspired Tallis to compose Spem in Alium. Other Tallis works, as well as some by William Byrd and Christopher Tye, round out the evening.
Since the spring of 2003, Peter Mahon, known as a singer and conductor, has served as Tallis Choir's artistic director. Our goal is to bring audiences polished performances of both familiar and rarely heard music, programmed to provide insight into the music's context.
Twitter: @TallisChoir