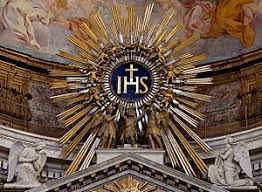 As we journey into 2019, the Church celebrates the Holy Name of Jesus, the name above all other names, by which all men are saved, and to which every knee shall bend and every tongue proclaim that Jesus Christ is Lord.
The Incarnation is the most important even in history, God become Man, and His message is to live for eternity, to use our time well in building up that 'treasure' for the Kingdom. Christ, in His human nature, lived 33 years; some are given less, some of us – yes, alas – given fare more. But whatever weeks, months and years we are given, we should see and use as a gift, to do good to those around us, in all the panoply of ways in accord with our vocation and path. So, as Pope John Paul proclaimed, cast forth into the deep, be bold, be not afraid, and, in a spiritual sense, conquer the world.
On that note, a final thought, which I came across recently:
Which, I wonder, are the more pathetic, the old who are putting in time until they die or the young who are putting in time until they live?
In God's eyes, there is really no youth or old age, for our souls are age-less, destined for that eternity to which we are all called.
So rejoice; as Chesterton would say, and as Scrooge found out just in the time, each new day is a gift, and what better Christmas present for God than to offer ourselves at the close of each one back to Him, a little bit better, and with a little more good in the world, than when we awoke?
Praised be Jesus Christ, heri, hodie et in aeternum. Yesterday, today and forever.