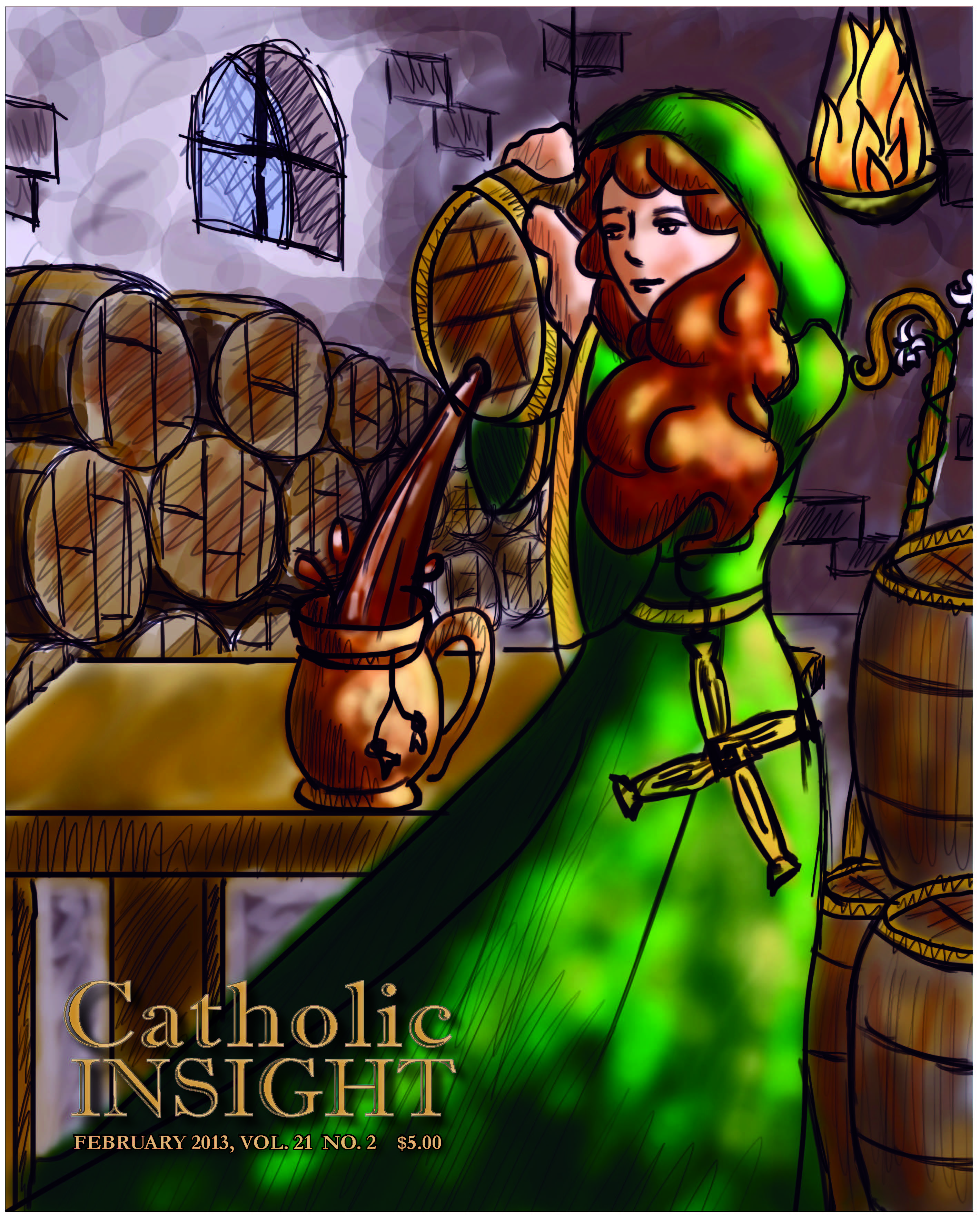 Our February artist, Anna Pierlot, is a student at Campion University in Australia. Her free time is consumed by art, writing, and a philosophy club that she began with her friends. Below are selections from an interview; read more at catholicinsight.com.
What is this piece about?
This piece depicts St. Brigid, patron of Ireland (along with St. Patrick). She is often shown holding a reed cross, a crozier of the sort used by abbots, along with some source of fire or light. Fire is a central image connected with St. Brigid; nuns at her monastery are said to have kept burning a sacred eternal flame. She is said to have had the power to multiply such things as butter, bacon, and milk; she is shown here brewing beer.
When did you start painting?
I have been practising art since I was about three years old, and am so far self-taught. Nature, stories, beauty, imagination all cause me to keep drawing, pushing me to capture God's creation in some small way. My art is the dreams of my soul pushed through the clumsy filter of my hands.
What do you do with your pieces? Are they ever shown? Are they for sale?
I have done commissions for various people, and often draw to create gifts for people. Due to a lack of time, I have not been able to pursue art as a career, but continue in it for practice and leisure. I am, however, extremely open to commission and freelance work.
How would you define beauty?
There are many and comprehensive definitions of beauty given by the Church, but I often look at it as simply God in His creation: His goodness, His truth, His unity and order, shining in all He has made, like a light f rom within a bottle. The more He shines through, the more brilliant the beauty.
What is the purpose of art?
The purpose of art is to speak truth, to reflect God in His goodness, truth, and beauty. God is THE truth, and art is another "word" to speak it.
Do you have any other thoughts about art?
There is a huge amount of art in the world, and each piece is like a soul filtered onto a page. Much like writing, art tells stories and holds power to change and inspire, but also to harm and destroy. Whether the instrument is a sword, a pen, or a paintbrush, responsibility is needed to wield tools capable of producing such varied results.