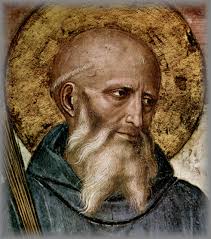 Today is the feast of Saint Benedict, with the variety of whose 'options' carrying his name he may not necessarily agree. At a young age, he retreated from the decadence of sixth century Rome, but, as is often the case, the world, or at least some from the world, followed him. Truth and holiness have their own splendour and attractiveness, as continued right up until our own day, from Nurcia and Benedict's birthplace, to Clear Creek, Oklahoma.  Ora et labora is a fine motto for life, summing up in terse Latin the path to heaven.
The basic Benedict option is to 'retreat' from the world interiorly, to build what mystics such as Saints Catherine and Theresa called an 'interior castle', keeping out and resisting the assaults of the world, the flesh and the devil.  Sometimes, and in some ages, this 'wall' must become more exterior, more real.  And there is much that is right with building Catholic communities, with mutual support, and that friendship that is so necessary for human flourishing and perfection.
We continue our pilgrimage across Canada, visiting families and friends, absorbing the grand and wide scenery of this beautiful land, and praying that its spiritual dimension once again reflect that physical beauty.
On that note, we are off once again, but will have more to write soon, on what is happening in Canada and beyond.
In the meantime, be assured of our continued prayers.
Saint Benedict, ora pro nobis.