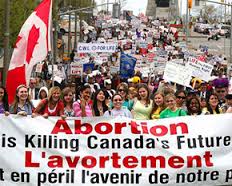 This  Thursday is the 17th annual March for Life, commemorating Trudeau Sr.'s to demonstrate our commitment to life in a visible, public way.  People debate about the value of such demonstrations, especially as they are comically, one might say conspiratorially, under-represented in the media.
CBC, Globe and Mail, Toronto Star:  What March?  Oh, yeah, those few radicals who get together every year…
The main value to my mind is spiritual, to unite in prayer and common purpose for an end to the culture of death, and to promote the culture of life.  Of course, it is also social, to catch up with people one has not seen for a long time, or to meet new friends who share common principles.
So, if you can, make the trek out to Parliament Hill on Thursday, and make your presence count, at least in the sight of God.