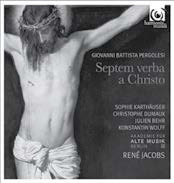 Giovanni Battista Pergolesi: Septem Verba a Christo
Featuring Akademie für Alte Musik / René Jacobs (Conductor)
Harmoia Mundi, 2013
ASIN: B00A6U5B6M
In English the title of this long-forgotten masterpiece is The Seven Words Uttered by the Dying Christ on the Cross. It was scored for orchestra and soli: bass (Christ) and tenor, soprano, countertenor (Anima or Soul) is a cycle of seven cantatas, lasting slightly over an hour. Christ sings the opening Word in each cantata and the soul answers. The composer utilized the horn as a symbol for Christ, given that in his era the horn was accepted as a symbol of royalty.
The tradition of mounting this ex-liturgical office during the hours of twelve noon to three on Good Friday in churches started in the New World spread to Spain and then to the rest of Europe. Many are familiar with Haydn's version of The Seven Last Words of Christ in their various versions, considered one of his masterpieces.
In the Spanish-speaking world this office was performed as follows: "The walls, windows, and pillars of the church were hung with black cloth, and only one lamp … illuminated the sacred darkness. … After a prelude, the bishop mounted the pulpit, pronounced one of the Seven Words, and delivered a meditation on it. As soon as it was over, he descended from the pulpit and fell to his knees before the altar. This pause was filled with music." As so it progressed until the final Word was pronounced, when all left the church in silence after the one lamp had been extinguished.
Pergolesi (1710-1736) died very young but his music was fifty years ahead of its time and influenced many composers that lived in eighteenth-century Europe. His artistic voice is totally unique and his oeuvre sounds contemporary to Mozart and Haydn. If he had lived beyond his twenty-six years his reputation may have matched giants like Beethoven or Mozart. This work was not accepted in the twentieth century as an autograph of Pergolesi; indeed most of his religious oratorios were totally overlooked by musicologists and the early twentieth century considered religious music well down the list of priorities as secular humanism took hold of all Western societies. Music scholars concentrated on Pergolesi's operas, the most famous being Serva Padrona, even though Catholic monasteries and libraries all over Germany and Austria had manuscripts or parts in their collections of his religious compositions. Another of his oratorios that has only come forward recently is the masterpiece La Morte di San Giuseppe (The Death of St. Joseph), which was performed by the Italian violin virtuoso Fabio Biondi with the New York Collegium a decade ago, but remains unrecorded to my knowledge. Both of these works are supreme masterpieces.
Rene Jacobs became world famous as a counter-tenor, and was based in Paris in the 1970s and 1980s. As a conductor he has since become one of the greatest European interpreters of Mozart operas (Grammy Award 2005). The Akademie fur Alte Musik, which celebrated their thirtieth anniversary last year, is usually heard in a chamber configuration (i.e. no conductor) and is based in Berlin. This world premiere recording was released in conjunction with the publication of the score by Breitkopf (breitkopf.com) and orchestral material or pianovocal, which is long overdue.
© Paul-James Dwyer 2014