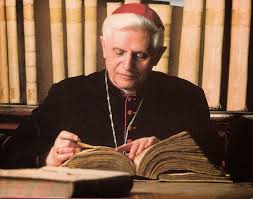 It was six years ago today that Pope Emeritus Benedict's resignation from the papacy became official, leading to the conclave which elected Jorge Cardinal Bergoglio to take his place or, more properly, Christ's place, as His vicar. That is not to say that any particular Pontiff acts 'as Christ would', for in the two millennia of the Church's pilgrimage towards her apocalyptic fulfilment, we have had good and bad popes, and everything in-between.
Like everyone else, I wonder what really was going on in the depths of Benedict's mind as he resigned, and ever since, as events have unfolded. Does he have crises of conscience, which he, like all of us, will soon have to bring before God? Is he at peace? Or somewhere in-between, good days and not-so-good days? Is he tempted to intervene, to cry aloud from the rooftops of the Vatican hill? He prays, I am sure, offering that intermediary intercession like Moses of old, without which, likely, things would be even worse than they are.
At the end of the thirteenth century, Pope Celestine V (+1296) – whom the cardinals elected as aa holy man, but who turned not to be all-that-gifted an administrator – resigned the papacy, making way for the more rancorous and much–despised, by some at least, papacy of Boniface VIII (+1303). Like Pope Emeritus Benedict, Celestine was thereafter confined for the remainder of his days to the Vatican – in his case, in a prison of sorts – spending his time in prayer and intercession. Dante, who had no time for Boniface's political pretensions and meddling, put both him and Celestine in the inferno, the latter for making il gran refuto, that 'great refusal' to carry out his office. Yet Celestine soon after his death was canonized by the Church, and is in fact in the paradiso, enjoying heavenly beatitude.
Although the historical analogy is of course limited, like Celestine, Benedict may realize at a some level of his deep and prayerful soul that God has all things in His hands – having lived, like his friend and confidante Karol Wojtyla – through some of the worse cataclysms of the twentieth century. But he must wonder at times at what the heaven is going on in the Vatican: As he intimated before his resignation, the rot is deep and ingrained, now being mercifully exposed, and today's reading from the Book of Sirach warns in what seems a rebuke to certain modern ecclesiastical opinions who would like to emphasize a false version of mercy at the expense of truth, not least moral truth:
Say not: "I have sinned, yet what has befallen me?" for the Lord bides his time. Of forgiveness be not overconfident, adding sin upon sin. Say not: "Great is his mercy; my many sins he will forgive" For mercy and anger alike are with him; upon the wicked he alights his wrath…Be consistent in your thoughts, steadfast be your words".
'Consistent in our thoughts and steadfast in our words', which well describe the treasure of the mind, life and writings that Josef Ratzinger-Benedict has left us. We could spend all Lent meditating on, and putting into effect, that one phrase.