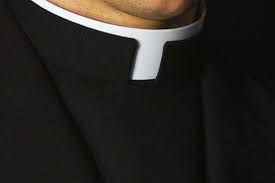 It's a real mess, and I assume that it's going to get messier. In the past few days I have had many discussions, read many articles, listened to many podcasts, and given several homilies on the scandal of clerical sexual immorality and its concomitant cover-ups.
Being a young priest (I was born in 1987 and ordained in 2014) I have often been asked why I would become a priest in our current context. The simple answer is that God called, and I answered. How could I say, "no", when He had blessed me in so many ways through my family, parish, and schools? "No" wasn't an option for me, but I think a little history of my formation, which is like that of many of my peers in the priesthood, will help you to understand why I still want wholeheartedly to say, "yes", to God's call.
I grew up largely sheltered and oblivious to the abuses perpetrated by deviant clergy. I was in high school when the news broke from Boston, and I didn't learn about cases in my own diocese until I was studying at Our Lady Seat of Wisdom, Barry's Bay. While at OLSWA (now Seat of Wisdom College) I also learned some of the recent history of the major seminaries in Ontario, which contributed to my decision to remain at OLSWA for three years instead of one, which was my original intention.
When I applied to enter seminary for the Diocese of Pembroke, to my great relief, Bishop Mulhall decided to send me to St. Philip's Oratory in Toronto. I have nothing but respect and admiration for the priests of the Oratory and the formation that they offer to seminarians. It is a morally upright community that offers excellent human, intellectual, spiritual, and pastoral formation.
After two years at St. Philip's I was sent to the North American College, Rome. I had heard hearsay about things that had gone on there in the 70s and 80s, but its reputation when I entered in 2010 was excellent and only getting better. Does that mean it is a perfect institution? No. There's no such thing as a perfect institution because there are no perfect people, save Christ and the saints in heaven. But it is currently an institution run by good priests who are doing their best to implement Church policy on seminary formation.
The application process to enter the NAC was rigorous. I went through a slew of psychological and intellectual tests. I wrote an autobiography recounting the ups and downs of my moral and spiritual life. The process was designed to weed out guys who may be trouble – trouble for themselves, other seminarians, and, if they were ordained, trouble for their parishioners. I was extremely compliant with the process, but I had nothing to hide. In hindsight, I would admit to being a bit naïve about it all. It didn't take long to realize that if someone who shouldn't be in the seminary wanted to be in the seminary he could certainly lie his way in.
The vast majority of guys I studied with were and are exemplary men; however, there were some who shouldn't have been admitted to the seminary. Thankfully, the guys I know that definitely shouldn't have gotten into the seminary didn't make it to ordination. The process, however, isn't perfect. As has been mentioned in several of the articles and podcasts released in the past month, there is no process that can fix this problem. It requires that individuals take responsibility for their own actions and seek holiness in all circumstances. Msgr. Checchio (now bishop of Metuchen), the rector of the NAC during my years there, often exhorted the seminarians to be honest about grave moral struggles. I really didn't envy his situation, because if a guy was skillful at hiding sexual deviancy, how could the faculty know about it? In some of his homilies and conferences, Msgr. Checchio would say things to the effect of, 'if you watch pornography, if you masturbate, if you are in a secret relationship with a man or a woman, please do not present yourself for ordination. You are doing grave harm to yourself, and if you are ordained, you will do even greater harm to the people of God.' Praise God that there are good priests trying to do God's work in forming more good priests. Please pray for them and their ministry.
To hear a good discussion of some of the reform that has taken place in seminaries regarding sexual deviancy, especially homosexuality, please listen to this recent episode of "Pints with Aquinas" featuring Matt Fradd and Dan Mattson.
To be clear, however, the situations that lead to the horrible abuses that are now coming to light in the Church were far from subtle and secretive. It is mind-boggling how deep the corruption goes, how many lies have been told, and how many eyes were turned away from blatantly evil actions in order for this scandal to have come as far as it has. When reading the "Pennsylvania Grand Jury Report" and Archbishop Viganò's letter, one is simply left weeping and infuriated at how such diabolical behaviour was permitted and concealed.
So, those are my thoughts as a young priest accepting the responsibility of being a pastor for the first time. In recent homilies I have encouraged parishioners not to lose heart. As St. Peter said, on behalf of the twelve, when Jesus asked if they too would leave, "Lord, to whom shall we go? You have the words of eternal life" (Jn. 6:68). Our faith is in Christ, not earthen vessels, and I have faith that Christ is at work purifying his bride. In a YouTube post last week, Fr. Mike Schmitz closed with a powerful exhortation: "Don't leave the Church when things get tough. Lead the Church when things get tough… And the best way that you and I can lead the Church is by becoming saints!" Christ needs to weed the corruption and vice out of each of us for the Church to be renewed. The corruption in the hierarchy must be purified, of course, but the same mess will happen again if we aren't all seeking holiness along with holding our brothers accountable.