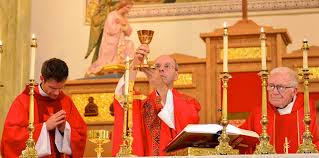 Bishop Michael Mulhall – who has led the diocese of Pembroke since 2007, wherein I and the College at which I teach both happen to reside – has been appointed by Pope Francis, as of today, March 28th, as the Archbishop-elect of Kingston. He is succeeding Archbishop Brendan O'Brien, who was also Bishop of Pembroke before going to Kingston. A trend? Likely not, but please do pray for the Bishop, and for the man whom God is preparing to succeed him in Pembroke, itself under the heavenly patronage of the great Saint Columbkille from Donegal, who brought the Faith to Scotland on the isle of Iona. Both of our last bishops were of Irish lineage, so perhaps there is another trend here…But just as there neither slave or free, rich or poor, nor Irish and the rest, in the sight of God, may He choose whomsoever He wills, so long as he is orthodox, traditional, conservative, loves Saint Thomas Aquinas, and has a great zeal for Catholic higher education and liturgy soaring with transcendent beauty.
And, on that note, it seems the mystery of Pope Francis awkwardly jerking his hand away from would-be venerators of his papal ring has been solved: The Holy Father wanted to avoid spreading germs. It seems he will offer his ring in small groups, but not in large ones. Hmm. Our world, even our bodies, are filled with 'germs', and I wonder about this germophobia in liturgical and devotional matters. If such be the case, we should likely stop the practice of utraquism, wherein the faithful receive both species of the Eucharist; for what is more 'germy' than drinking from a chalice from which twenty others have drunk before thee, interspersed with vain attempts by the lay-minister to wipe the rim with a small towellete? Or what of venerating relics? Or the 'handshake' of peace?
Ah, well, at least we know. If you'd like to venerate the Pope's ring, go in a small group. Or solo. Or, best of all, continue to pray for our Holy Father, as for all our bishops and priests, who need such far more than our venerating their rings, as devotional as that may be.