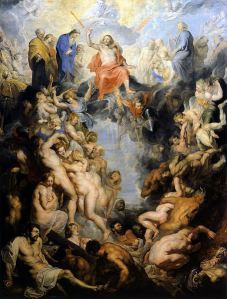 A lesbian couple in Missouri were denied Holy Communion at one of the women's mother's funeral when it came to light that the two were in a same-sex relationship. The two women had been parishioners at St. Columban Catholic Church for twelve years. Ms. Parker, one of the women, was quoted as saying that she hoped the priest, Fr. Kneib, would "open his eyes and fully receive the LGBT community into the church." She further added: "We're all God's children and we have every right to receive Communion. … Even the Pope has said, 'Who am I to judge?'"
If Ms. Carol Parker, and presumably her same-sex partner Ms. Josephine Martin, had thoroughly read what Pope Francis said in the famous interview on the plane home from Rio, she would have realized that he wasn't condoning her disordered relationship with another woman. While he wasn't about to hand down a final judgement on the person, the sin is still a sin. But I suppose she, along with many other people, conveniently ignored that part.
Increasingly, "who am I to judge" and its partner "don't judge me" have become an over-used defence that validates every sort of behaviour and excuses us from being accountable to moral truths. Too many people wrongly believe that by judging the sinful behaviour, we are judging the person. This isn't true, of course, and when we are called to charitably speak out against the sin, we are really showing love of our neighbour and a concern for their soul.
The truth is, we all have a moral conscience that enables us to make right judgements. Our conscience "judges particular choices, approving those that are good and denouncing those that are evil. It bears witness to the authority of truth in reference to the supreme Good to which the human person is drawn, and it welcomes the commandments" (Catechism of the Catholic Church, 1777).
Our moral conscience has been placed in our innermost being by God. Unfortunately, in a world that is loudly booming with distractions it is easy for us to avoid looking within ourselves and therefore we don't hear the voice of our conscience. It becomes easier to fall under the influence of a secular culture that denies Christ. We need to follow the advice of St. Augustine who tells us to "return to your conscience, question it … Turn inward, brethren, and in everything you do, see God as your witness."
Who, then, are we to judge? Well, actually, our moral conscience tells us that we have to judge—but we never judge the person. We do however have to judge the act in light of God's laws to determine whether or not it is sinful.
The last word on this subject belongs to Pope Emeritus Benedict XVI:
How many winds of doctrine we have known in recent decades, how many ideological currents, how many ways of thinking. The small boat of thought of many Christians has often been tossed about by these waves—thrown from one extreme to the other: from Marxism to liberalism, even to libertinism; from collectivism to radical individualism; from atheism to a vague religious mysticism; from agnosticism to syncretism, and so forth. Every day new sects are created and what Saint Paul says about human trickery comes true, with cunning which tries to draw those into error (cf Ephesians 4, 14). Having a clear Faith, based on the Creed of the Church, is often labeled today as a fundamentalism. Whereas, relativism, which is letting oneself be tossed and "swept along by every wind of teaching," looks like the only attitude acceptable to today's standards. We are moving towards a dictatorship of relativism which does not recognize anything as certain and which has as its highest goal one's own ego and one's own desires. However, we have a different goal: the Son of God, true man. He is the measure of true humanism. Being an "Adult" means having a faith which does not follow the waves of today's fashions or the latest novelties. A faith which is deeply rooted in friendship with Christ is adult and mature. It is this friendship which opens us up to all that is good and gives us the knowledge to judge true from false, and deceit from truth.
Photo credit: Painting of The Last Judgement, by Peter Paul Rubens. Source: Wikimedia Commons.