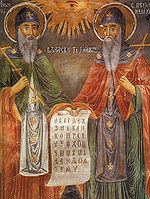 The wider world knows this day as dedicated to Saint Valentine, about whom both the Church knows little, and the world even less. What we do know is that Valentinus – his Roman name – was a priest, perhaps a bishop, of the third century, imprisoned and eventually martyred for evangelizing and converting many to the Christian faith, then still illegal in the Empire, although persecutions were sporadic.
For reasons that remain obscure, Valentines has become the patron saint of lovers and would-be lovers, or happy courtships and marriages. It is said that he secretly witnessed and blessed the marriages of his converts, so that the husbands would not have to go to war. He would write letters from his prison cell, signed 'from your Valentinus', which has been brought into our secular world as a sign of a more, shall we say, romantic affection.
Many priests and others have fostered the noble vocation and adventure we call marriage – Karol Wojtyla being a rather significant example of a modern 'Valentine', and his 1960 very readable treatise Love and Responsibility is perhaps the best handbook of what it means to love, as well as how – and how not – to 'fall in love' and build the foundation of a happy and successful marriage.
Today is also in the universal calendar we celebrate the ninth-century monks and missionaries Saints Cyril and Methodius, who translated the Roman Liturgy into Slavonic, allowing for the conversion of untold thousands into the Church. The Cyrillic alphabet is named after them, and their success as apostles, to the 'slavs' and countless others, prompted Pope Saint John Paul II declared them co-patrons of Europe, along with the great Saint Benedict.
So let us today and throughout the coming weeks pray for Europe, which need desperately to find its faith once again, if it is to survive.  As Belloc wrote, Europe is the Faith, and the Faith is Europe. Without Catholicism, Europe is just a geographical expression, or, now, worse, a bloated bureaucracy run with increasing inefficiency from a group of unelected and faceless apparatchiks in Brussels, with no care for religion, to say nothing of culture. The looming Brexit may be the beginning of this very fragile economic unity, about to be overwhelmed by those who share not her once-cherished beliefs and customs.
And on a more hopeful note, let us also pray to Saint Valentine for good and holy marriages, with lots of joyful and exuberant Catholic children to give us hope and joy into the succeeding generations. To close again with the great Pope John Paul, as the family goes, so goes society. And families, of course, are based on that holy wedlock which provides the greatest of natural joys. As Pope Benedict pointed out in his first encyclical on the theme of human love, it is the Church that ennobled marriage, bringing the sacrament back some way to the primordial bliss that prompted Adam to cry in joy out when he beheld the bride – a helper fit for him – that God had made: This at last is bone of my bones and flesh of my flesh. And the two shall become one.
Amor vincit omnia, et nos cedamus amore!
Saints Cyril, Methodius and Valentine, orate pro nobis!