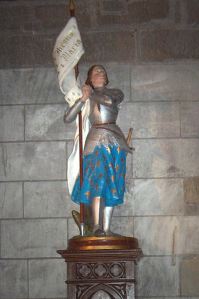 Jimmy Carter, the thirty-ninth president of the United States, is making the media rounds pedalling his new book: A Call to Action: Women, Religion, Violence, and Power. The description on Amazon reads:
A Call to Action addresses the suffering inflicted upon women by a false interpretation of carefully selected religious texts and a growing tolerance of violence and warfare. Key verses are often omitted or quoted out of context by male religious leaders to exalt the status of men and exclude women. And in nations that accept or even glorify violence, this perceived inequality becomes the basis for abuse. President Carter and his wife, Rosalynn, have visited 145 countries, and The Carter Center has had active projects in more than half of them. Around the world, they have seen inequality rising rapidly with each passing decade. This is true in both rich and poor countries, and among the citizens within them.
Of course, Mr. Carter takes special aim at the Catholic Church—accusing it of suppressing women because it does not allow women to become priests. In the process, he shows his complete ignorance of all things Catholic. In an interview on MSNBC, he said that in the Catholic Church, "Women are not qualified to have an equal role in the service of God as men. And of course, men all over the world take this as a proof that they can abuse their wives or pay less pay."
Let me get this straight, Mr. Carter: you think the Catholic Church is responsible for income inequality and wife abuse? Your accusation doesn't make any sense. As a supposedly suppressed practicing Catholic woman, I need to respond to your comments and correct your very strange ideas.
You see, Mr. Carter, the Catholic Church loves women. In fact, we esteem one woman, Mary the Mother of God, above all other human beings and because of her, we honour the gifts and uniqueness of all women. Pope Francis even said that Mary was more "important than the Apostles, than Bishops, Deacons and Priests."
The secular world suppresses women, the Church does not. In the world, women are taught that the only way to succeed is at the expense of our life-giving and life-nurturing qualities. The world encourages us to harm our bodies with chemicals, deny our fertility with sterilization, and destroy the precious life within us with abortion.
Misguided feminists have inflicted much harm by telling us that we are not good enough unless we are just like men. To feminists, our bodies are weapons to be used in the self-centered quest for power, money, and lust. They fail to respect the goodness of a woman's sexuality. If we don't respect who we are as sexual persons then why should men honour us?
On the other hand, the Catholic Church knows that when we respond to the Spirit's invitation to use our God-given feminine gifts in our particular place and time, there will be no stopping us. In his often-quoted Letter of John-Paul II to Women (1995), Bl. Pope John Paul II wrote, "Society certainly owes much to the 'genius of women.'" He acknowledged women "of the highest calibre" who, nurtured in the heart of the Church have "emerged … and have left an impressive and beneficial mark in history." These include ordinary women who rose to the challenges of their day and answered the call to be part of the solution instead of wringing their hands because they couldn't be priests. They understood that their gifts and the gifts of men are equal and complementary and so they were able to work together.
Your book isn't completely wrong, Mr. Carter. You rightly spoke out against genital mutilation, sex-selective abortion, rape, slavery, and other real abuses perpetrated upon women and girls. However, you forgot to include facts about how artificial contraception and abortion have damaged women's lives. Those are abuses too.
Venerable Archbishop Fulton Sheen said, "The nobler a woman is, the nobler a man will have to be in order to be deserving of [her] love. That is why the level of any civilization is always the level of its womanhood." The truth is, Mr. Carter, if women are respected for who they are created to be, if our value is not equated with the ridiculous notion of needing to be pseudo-men, we all benefit. So instead of pointing fingers at the Catholic Church, work with us to defend the uniqueness and dignity of women. And then you will see how quickly we can annihilate all the real abuses in the world.
Photo Source: Licensed under the Creative Commons Attribution – Share Alike 3.0 Unported License. Bayonne, France; Statue of Jeanne d'Arc in the Guardian Angels' Chapel of the cathedral.